Wanna bet that ... you can use an excavator shovel to place the tone arm of a record player precisely between two songs on a record, or hang up six socks with two excavators in the space of four minutes? Yes, you can. Several candidates on the German TV show Wetten, dass..? (Wanna bet?) won their bets thanks to their skills with an excavator. But what these clever contestants tried out for fun - namely operating a commercial vehicle with high precision - is now an established automated process in agriculture and forestry, road construction, mining, etc.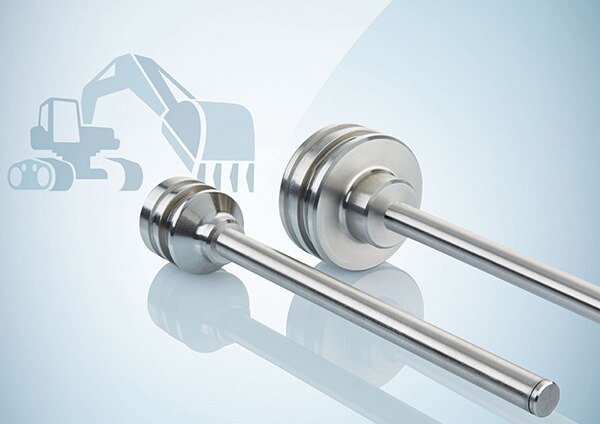 Mobile machines are increasingly becoming high-tech systems which perform their tasks in an automated, precise, and highly efficient manner. Even a single wrong move can be expensive in such situations. So how can you ensure that the motion sequences in your automated processes really are precise and efficient? With encoders from SICK. They will detect the exact speed, rotation, path, or angle of a movement and deliver the result to the process control or to the cloud as data that is ready for further processing.
Magnetostrictive technology rounds off SICKs portfolio
The encoder portfolio from SICK comprises high-resolution optical encoders and extremely rugged magnetic encoders for exact measurements in a wide range of applications. Rotary encoders are available as incremental and absolute encoders. The range is rounded off by inclination sensors that enable non-contact detection of angles in one or two axes. Thanks to the integration of magnetostrictive linear encoders for measuring and positioning hydraulic cylinders are available in linear measuring technology. The demand for linear sensor technology is growing for hydraulic machines in particular. SICK meets the need among customers for rugged and highly accurate hydraulic measuring technology with the MAX linear encoder developed specifically for mobile automation. The measurement techniques based on magnetostriction enable a non-contact, and therefore wear-free and absolute measurement. In addition, the pulses are resistant to ambient conditions such as temperature, vibrations, contamination.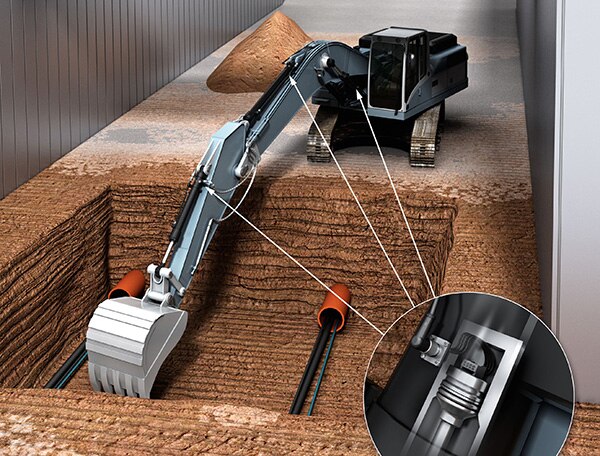 The right feedback for precise positioning
SICK is once again setting new encoder standards with the MAX48 and MAX30 linear encoders MAX30 features the smallest housing currently available on the market with a diameter of 30 mm and a length of 21 mm. The added value of linear measuring encoders in the field of mobile machines increases even more in combination with other sensor solutions (systems for angular and inclination measurement). Collecting machine status and process information makes it possible to carry out more detailed analyses, derive preventive measures (Predictive Maintenance 4.0), and support assistance systems. The automated waste container emptying system in Asti, Italy, provides an example of the successful combination of different sensors with encoders. Other examples include the leveling of excavator arms and the detection of ring mount positions on mobile cranes. AHS/AHM36 absolute encoders, TMS/TMM88 inclination sensors, and EcoLine wire draw encoders immediately turn received signals into data and transfer this data to a process controller or cloud.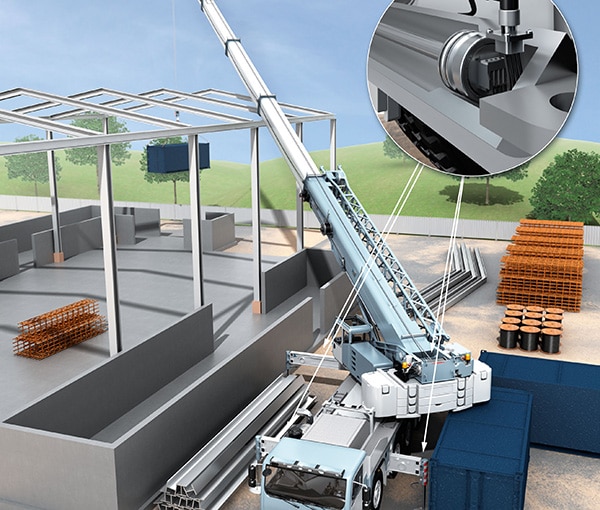 Wanna bet that you can empty a bottle container at the side of the road in 80 seconds or less in the middle of traffic? And at different collection points? Or that you can use an excavator to automatically apply gravel with centimeter precision? Or accurately level the surface of a kilometer-long highway embankment, without the excavator arm touching an overhead line or hitting a gas line? Yes, you can do all that and much more besides with rugged and intelligent sensor technology for demanding applications in mobile machines.