The machine vision specialist, IVP AB, was founded more than 25 years ago in the university city of Linköping in southern Sweden as an offshoot of the university there. Since then, the company has been working with machine vision, thereby creating the foundation for SICK AGs current Vision range.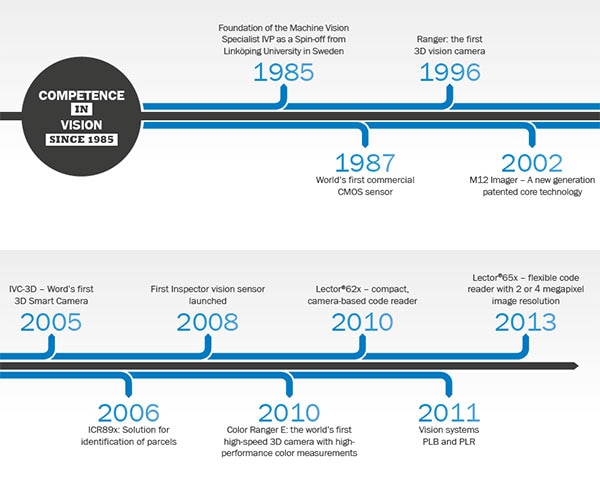 The first partnership between SICK and the Swedish vision specialists came about as early as 1999. IVP has been a part of the SICK Group since 2003. SICK can therefore also benefit from more than 25 years of experience in the area of vision sensors and machine vision. During SICKs early years, the first CMOS sensor for industrial use was brought to the market, which combined a pixel matrix, analogue-digital converter, and a graphics processor in a single chip. The most recent generation of this image sensor, the M12 Imager with patented technology, guarantees the high performance of the SICK 3D cameras. The first 3D vision product Ranger was launched in 1996. Today, SICK has a well-rounded portfolio, which ranges from vision sensors for code reading and quality assurance, through programmable image processing cameras, to high-end cameras for quick 3D image processing in tough industrial environments. But SICK does not only provide customers around the world with vision sensors and cameras. On the basis of many years of experience, intelligent vision systems have been created which provide solutions for very specific applications such as robot control or package sorting.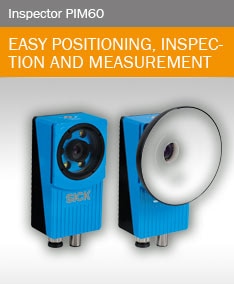 The Inspector PIM60 vision sensor provides high-speed positioning, inspection and measurement. Its multi-functional vision toolbox solves a wide range of quality control applications and improves production efficiency. The PIM60 combines smart camera functionality with the ease of use of a vision sensor. Its powerful toolbox solves inspection, robot guidance and measurement tasks. Thanks to the vision sensors excellent calibration support, it provides easy-touse mm data, simplifying guidance and measurement.
The LECTOR®65x image-based code reader from SICK provides maximum performance and optimum throughput in logistics and factory automation. With a frame repetition rate of 40 Hz and realtime decoding, the LECTOR®65x can reliably identify 1D, 2D and directly marked codes at the highest possible speed. The 2 or 4 megapixel image resolution offers a large field of view. Combined with dynamicfocus, maximum flexibility in code positioning, object height and transport speed is achieved.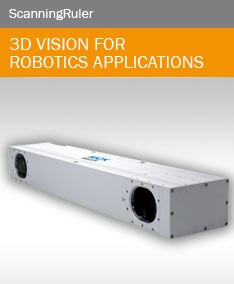 ScanningRuler is the perfect tool for 3D imaging in robot picking applications. It provides accurate and reliable 3D measurements of stationary objects. The data that is acquired can be used to locate parts in random bin picking applications and to calculate the best robot gripping position. The camera has a built-in laser light source and provides 3D point cloud measurements in millimeters of the entire scene. These features, in combination with the cameras immunity to ambient light and its simple configuration, make the ScanningRuler very easy to integrate and use. In addition to 3D images, the ScanningRuler also provides a 2D image of the scene to simplify part identification.
ColorRanger E extends the standard Ranger family by providing high-resolution color measurements. It offers full resolution RGB-color with on-chip color channel white balancing and spatial correction for high-quality color images. It is the ideal choice for applications where both 3D shape and color texture matters. Color- Ranger E uses laser triangulation to extract the true 3D shape of objects regardless of the objects contrast or color. Using MultiScan technology, it can measure a multitude of other object features, such as contrast, laser scatter, and color at the same time. This allows for reliable inspections and cost-efficient solutions since it only takes one ColorRanger E to see it all!