Properly safeguarding machines in explosive environments can be a difficult task. A simple spark can trigger an explosion - thats why unprotected electrical devices, such as standard safety light curtains, are prohibited. Now, with the explosion-proof enclosure for safety light curtains, customers have more options and greater peace of mind.
SICK offers an UL Listed explosion-proof light curtain encased in a special housing. It is the first of its kind on the market. What makes it unique is its UL Listed housing and product combined. This means that the explosion-proof enclosure has been tested with specific models of SICK light curtains installed inside. It is certified as a complete solution. This differs from competitors who only offer a UL Classified housing, says Tyler Glieden, Strategic Product Specialist, Safety Systems. Customers who purchase a UL Classified enclosure are responsible for installing a light curtain of their choice into the enclosure. The inspector will know the enclosure has not been tested with that light curtain when they see the UL Classified marking, and could order the customer to go through more testing." What is Explosion-proof? According to the National Electrical Code (NEC®), to meet the criteria for the explosion proof rating, an enclosure must be able to contain any explosion originating within its housing and prevent sparks from within its housing from igniting vapors, gases, dust, or fibers in the air surrounding it. SICK ensures that its explosion-proof products adhere to the strict demands required to meet the specific standards, such as ATEX and NFPA/NEC.
Many variants for maximum flexibility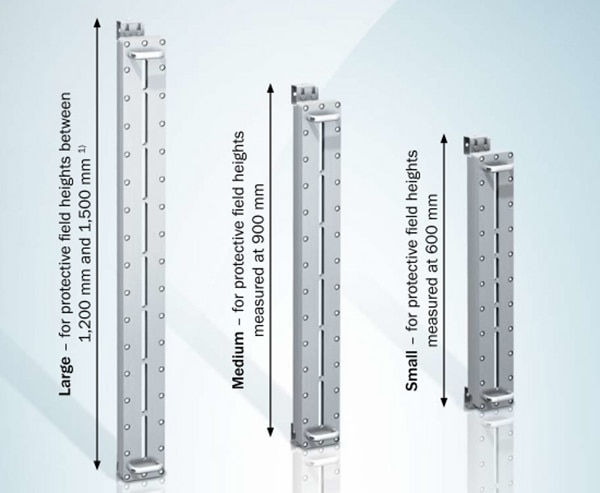 The rugged aluminum explosion-proof enclosure is available in three different lengths. This enables protective field heights of 600 mm, 900 mm 1,200 mm and even 1,500 mm (only with detec4 Core)
The SICK safety light curtains types that are offered as UL Listed solutions include the following: deTec4 Core Ex, C4000 Select Ex, C4000 Advanced Ex. The special rugged aluminum housing has handles plus an adjustable mounting bracket that rotates for easy alignment and installation. The light curtains come pre-mounted and pre-wired, which also helps reduce installation time. Protective field heights range from 600 mm - 1500 mm (depending on the model). A uniform resolution of 30 mm means a scanning range of 8 m to 16 m can be achieved (depending on the model).


New Opportunities for Protection

Saves time and costs: the unique combination of UL Listed housing and safety light curtain[/caption] Safety light curtains are vital in many applications to effectively protect people and work environments. When combined with SICKs explosion-proof enclosure, the field of application for these devices can be expanded to include industries that require explosion protection measures and compliance with applicable standards. Automotive, machine building, and oil and gas plants all have applications for explosion-proof products to name a few. Anywhere there are flammable gases, vapors, or liquids, combustible dust, and ignitable fibers, explosion protection is required. Other examples include areas where light curtains can be used to detect personnel entering prohibited areas.