Gravimetric dust measuring devices
Gravimetric dust measuring devices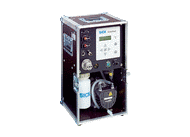 Easy setup, accurate measurement
Gravimetric dust measurement devices extract a partial gas flow from the duct under predefined conditions and use a filter to separate out the dust particles. The amount of dust is ascertained by weighing the filter. The differential pressure is measured to determine the extracted volume. These two values are then used to calculate the concentration of dust in the duct with a high level of accuracy. Gravimetric dust measurement is ideal for calibrating other dust measuring devices and for taking the kinds of comparative measurements that are required by the relevant authorities.
1 results: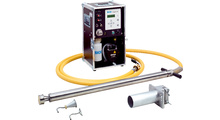 Mobile measurement system for gravimetric dust concentration measurements
Nearly no dust loss due to optimized sampling system
Automatic data recording and system control
Isokinetic control in real time
Automatic storage and evaluation of the measuring values
Automatic measurement of the flow angle and detection of swirl effects
This product family is being phased out!
TOP