Within the electronics industry, quality and precision are key factors when it comes to intelligent production concepts: The only way to ensure high levels of quality - from the individual components right through to the end product - is to keep tabs on the value creation process by continuously evaluating measurement results. Optical measurement technology from SICK combines precision and quality in one - by offering measuring instruments that are integrated directly into the production process. In an industry where high measurement accuracy is required in conjunction with short sensing ranges and the tiniest of objects, displacement measurement sensors are really able to show their strengths.
They are better at detecting objects than virtually anything else and have no contact points at all: Optical measuring sensors from SICK are quick, precise - and non-contact. Even delicate materials can be detected with micrometer precision without causing any deformation or damage. Every single measurement sensor expresses its intelligence through the perfect interaction of sensor properties (such as size, technology, and user friendliness) and specific user knowledge - all tailored to the requirements of the application concerned. In particular, displacement measurement sensors precisely detect even the tiniest material faults and micro-cracks. Because they are able to measure distances as well as workpiece and production tolerances with micrometer precision, they can monitor whether components are correctly aligned during the assembly process, for example.
Object measurement made easy
With its compact housing measuring just 18 mm x 31 mm x 41 mm, the OD Mini displacement measurement sensor is the smallest in its class and can identify the exact positions of PCB components.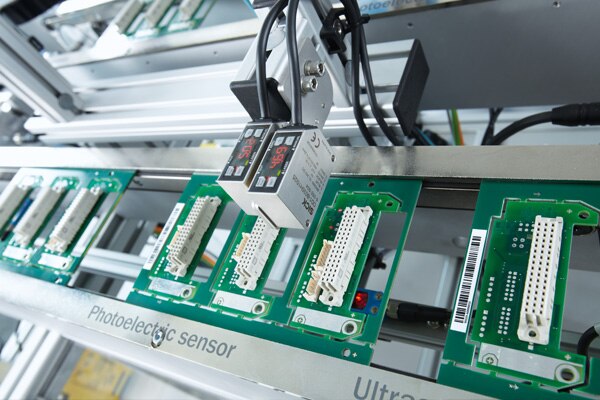 The measurement method is based on the triangulation principle, which makes the sensor highly sensitive. As a result, it can even be used to detect complex surface profiles - including in the context of dynamic gripping or positioning tasks. The OD Mini is able to handle the complexity of these applications thanks to its rugged miniature housing, and minimal weight of just 40 g in the aluminum design. Other advantages of the sensor, which ensure a high level of machine availability, are: the intuitive operating concept, the integrated evaluation electronics, and remote programming via the external teaching input.
Quality ties everything together
In many areas of the electronics industry, the real challenge lies in the detail, or rather in the structure of the end products. At this level, functionality depends on all the components working in unison and starts at the quality assurance stage of production. Assembly errors can be prevented by checking that the individual components (such as PCBs) have been installed in the correct positions. This is incredibly important when inserting components such as smartphone displays. The OD Precision displacement measurement sensor can identify assembly errors of this kind with micrometer precision and can be functionally expanded by using up to three sensor heads per evaluation unit.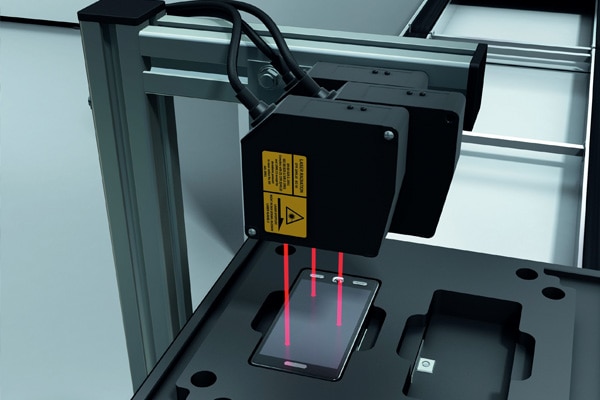 Absolutely reliable
Quality assurance within the electronics industry also involves measuring the layer thicknesses of lead frames and components. The OC Sharp relies on a chromatic confocal measurement method, allowing it to identify transparent semiconductor substrate layers starting from a thickness of just 0.3 micrometers and with resolutions of no more than a few nanometers. By checking the thickness and suitability of film coatings before the drying process is even performed, the OD Precision ensures the quality of rechargeable battery cells in advance. This laser-based distance sensor also shows its strengths when used to measure the thickness of glass on displays. Thanks to the triangulation technology, these thicknesses can be measured with high accuracy using just a single sensor head.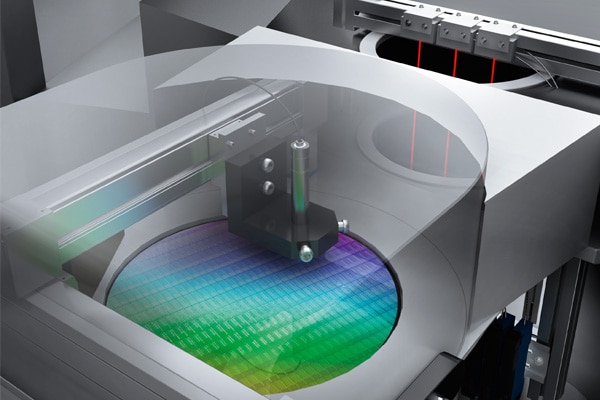 Special circumstances call for special measures
The wafer-thin glass and layers found in mobile communication devices are clear signs of miniaturization within the electronics industry and are the driving force behind new standards for intelligent measurement technology. The OD5000 is the innovative response. This high-performance sensor can measure even more quickly and precisely - and to an even greater depth of up to 8 peaks. This ensures maximum measurement certainty for thin/ultrathin glass substrates and layers, as well as for curved glass and surfaces. In addition, the sensor can be configured via a SOPAS web server, which means that quality can be optimized within the actual process. This is because production data can be fed back during operation so that tolerances can be adjusted as appropriate further down the line.
A team of networkers
With its extensive array of optical measuring sensors, SICK has the perfect answer for a highly demanding industry where measurement technology is expected to keep pace with end product flexibility and life cycles while also optimizing production and costs. Coupled with the relevant application knowledge, the technology makes custom applications accessible and can respond to all kinds of requirements. One huge area of potential lies in the way displacement measurement sensors can be combined with other sensors. Sometimes, assembly involves detecting quantities such as height or contrast in addition to taking distance and planarity measurements with short sensing ranges. And that is where intelligent vision solutions come into play. In this case, displacement measurement sensors can be used to check that PCBs are positioned correctly inside the device housing, for example. 2D-vision sensors detect the mounting holes and indicate their positions ready for the subsequent screwing process. Meanwhile, 3D-vision sensors are used in quality control systems, where they perform a wide range of additional quality checks at every stage of the assembly process. For instance, Pinspector can be used for 3D pin inspections. This diverse range of solutions makes SICK a highly competent partner for electronics companies who are looking for optical measurement technology.