Reliable function under the toughest conditions - that is the promise from the heavy-duty sensors from SICK. Different product families are available depending on the individual application requirements; specific detection properties are also available depending on the object and task.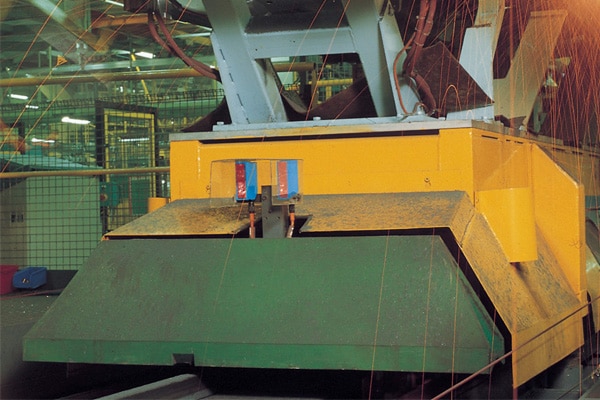 The term heavy-duty encompasses a variety of application scenarios in which standard sensors reach the limits of their viability. Heavy mechanical stresses caused by impacts or vibrations are among the challenges, as are the temporary or permanent influences of oils, coolants or lubricants on the housing, the front screen and the cable connections of the sensors, or their frequent cleaning or disinfection processes. Ambient light, high temperatures or large temperature fluctuations must also be overcome, as do dust and dirt in the air which impair detection performance and can also create deposits on the sensors under certain circumstances. However, at the same time, the objects themselves can be hard to detect: transparency, gloss, irregular geometries, discontinuous surfaces or changing distances often make it necessary to design the detection properties for the individual application. All these requirements can be selectively assigned to individual industries only to a certain degree; protection against dampness, for example, is a criterion both in packaging lines for the food industry and in the detection of damp solar wafers during the production process.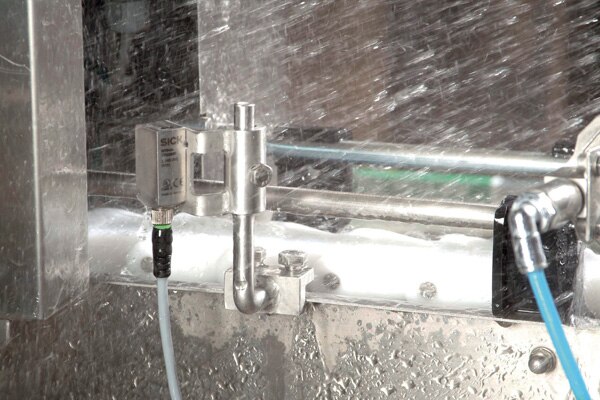 When moisture becomes a factor the photoelectric sensors of the W4 Inox product family have proven effective in many applications. In addition to their extreme ruggedness and stainless-steel housing only roughly equaling the size of sugar cube, these sensors offer sealing technology optimized for use in industrial humid and wet areas, including a sealed electrical M12 connection. They reliably prevent the penetration of moisture and and are constantly undergoing further development by SICK by means of rigorous test cycles under varying loads, temperature deviations, various pressurizations, cold shocks and artificial aging processes. The control unit - integrated into the housing in the form of a flexible stainless steel membrane - is also absolutely watertight. As a result, the tightness requirements according to IP67, IP68, and even IP69k are exceeded by far. These properties are optimal for use in solar wafer production. In these applications, photoelectric proximity sensors of the product family detect moist and contaminated wafers after processing and singulation on a conveying line. In this rough environment, where acetic acid is also used, the sealing concept reliably protects the sensor from penetration by moisture.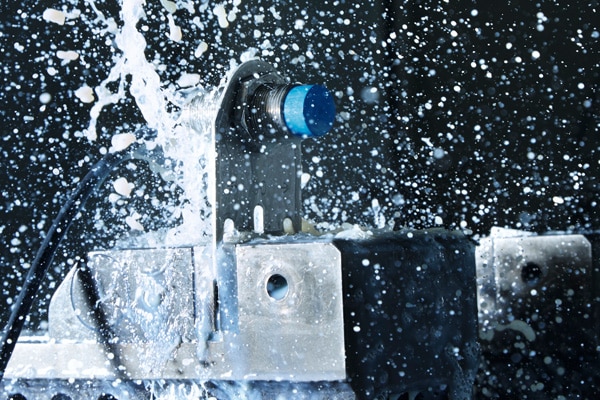 Increased requirements in humid and wet areas
Impermeability alone is not sufficient for use in humid and wet areas, for example in the food, beverage and pharmaceutical production industries. Usually at least a washdown, if not a hygiene design, is typically required of the sensors. That is why the W4 Inox product family was designed completely in line with the recommendations of the EHEDG (European Hygienic Engineering & Design Group). The electro-polished stainless-steel housing, with its surface roughness of 0.8 µm RA, offers few adhesion options for residual foodstuffs and thereby a minimal culture medium for bacteria and other microorganisms. The gap-free sensor housing can also be easily flushed of cleaning agents and disinfectants, which can subsequently drain quickly and without residues.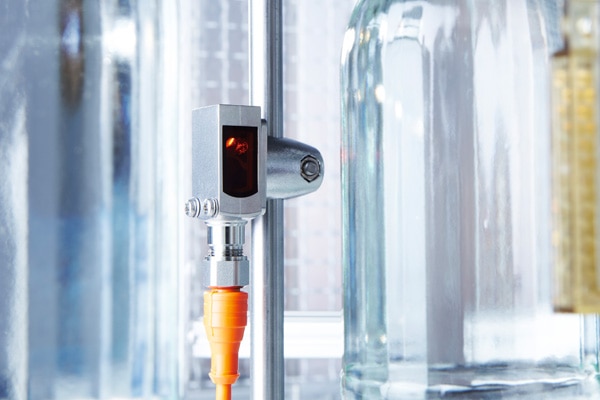 Media resistance: no chance for corrosion
An additional aspect of the suitability of heavy-duty sensors is the selection of housing materials, which can withstand corrosive and destructive liquids or gas mixtures over a long service life. For example, the housing of the W4 Inox consists of low-carbon 1.4404 / AISI 316L stainless steel. It exhibits excellent resistance to chlorine-based media such as disinfectants or foam cleaners, which corrode conventional materials at a particularly high rate. Inherently rugged due to its zinc die cast housing, the W12-3 product family impresses anywhere sensors come into contact with greases, oil, coolants or lubricants. This is the case when processing and packaging with animal and plant-based greases as well as with machine tools or in the oily ambient air of sheet metal production areas in steel mills. The versions with Teflon-coated housing expand the range of media resistance to include a number of acids, among others. The W12-3 product family, based on a platform which includes all opto-electronic principles, therefore enables universal solutions when it comes to high stability.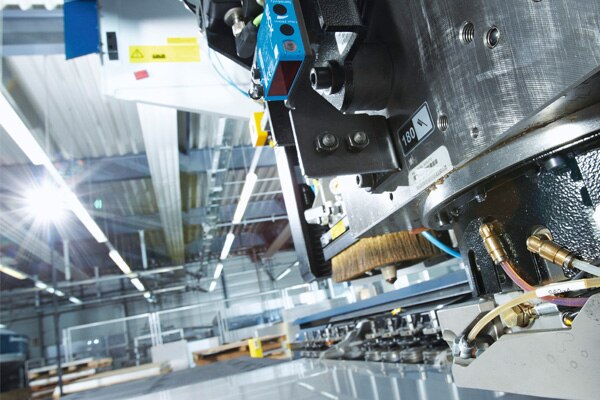 Sensors and reflectors: heat-resistant in the system
When ambient temperatures of over 120 °C exist, as is the case in forging plants or when producing glass bottles, sensors such as the W12-3 can, for example, be protected from the direct influence of high temperatures by a protective housing or with other heat protection measures. In practice, the fact that reflectors also have to withstand the adverse application conditions is often considered only too late. Together with the sensors, heavy-duty reflectors such as the SW50 from SICK designed for ambient temperatures of up to 300 °C, enable long-term detections solutions which are not only extremely rugged when it comes to temperatures, but also when it comes to a wide variety of mechanical influences or high-pressure cleaners. Rugged in withstanding heavy vibration and impacts In the automated conversion of bottle cases or pallets, in stationary transport systems for all kinds of containers, in pallet systems or when handling steel products, vibrations and impacts place very strict requirements on the mechanical structure of sensors. The W24-2 product family from SICK is particularly impact-resistant. The zinc die cast housing makes it a rugged, long-lasting and reliable detection solution for handling extremely heavy loads such as sheet metal coils or railway tracks. The large working distances of the product family provide both functionality and operating reserves in every application. Inductive sensors also allow for heavy-duty Solutions In there is an application for which optoelectronics is not the optimal operating principle, the range of heavy-duty products offers powerful alternatives, e.g. the inductive sensors of the IMB product family. The sensors in corrosion-resistant stainless-steel housing are available in types M08 to M30 and, among other things, are designed for constant spray or immersion contact with water, for permanent contact with aggressive cutting oils and cooling lubricants and for a temperature range of -40 °C to 100 °C. Their rugged mechanical design ensures impact and vibration resistance up to 150 g, and tightening torques of up to 100 Nm during the mounting process ensure secure fastening of the sensors. Typical applications of the inductive sensors are container spreaders, car wash systems, machine tool construction as well as outdoor gates and barriers.
Heavy-duty sensors provide detection reliability under harsh ambient conditions
The examples of use show that demanding operating and environmental conditions require different performance features depending on the industry and the application. Whether increased impermeability, hygienic design, chemical resistance, temperature resistance or impact and vibration resistance is required, a heavy-duty property is not always sufficient. Often an intelligent combination is needed to fulfill the requirements. Many sensor solutions are also able to rise to the challenges of detection technology. Laser LEDs generate small, contoured light spots and are ideal for recording small objects. LEDs with line, double line or surface optics make it possible to reliably detect objects with special geometrical or optical properties. The best possible resistance plus reliable object detection plus self and remote monitoring; all things considered, heavy-duty sensors ensure maximum availability of machines, plants and processes for SICK.