In mobile applications, the S3000 Anti Collision safety laser scanner offers by far the largest sensing range for a field where safety is key: 15 meters. Working closely with Jungheinrich, SICK has developed a solution to provide efficient protection for narrow aisle trucks. Thanks to this new solution, two or more industrial trucks can now be used in one narrow aisle for the first time ever. It forms the ideal basis for improving throughput and flexibility while still ensuring maximum safety.
A narrow aisle is a form of high-bay warehouse where the aisles are so narrow that two people would not be able to pass one another. If industrial trucks are used in such narrow aisles, the vehicle is unable to maintain the required minimum distance from the storage rack (0.5 m). In this type of high-bay warehouse, vehicles and humans are not permitted to be in the same aisle at the same time. Furthermore, these warehouses are required to adhere to the technical measures set out in DIN 15185-2 which states that additional protection for staff must be provided for a worst case scenario.
More safety or more throughput rates?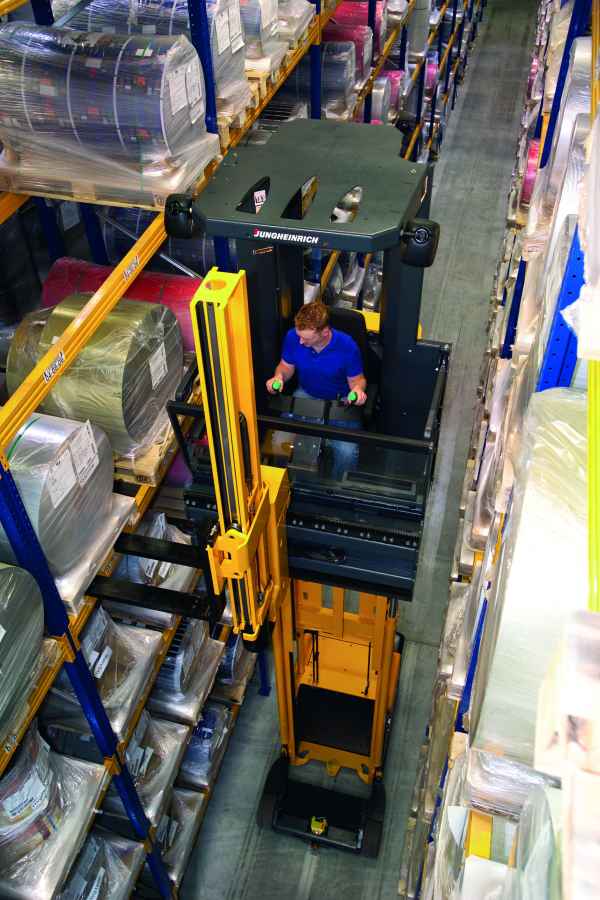 S3000 Anti Collision on an industrial vehicle at Jungheinrich
Recently, companies have been faced with rising demand for increased throughput rates and more flexibility but have found that they are unable to meet it because they are not permitted to use more than one vehicle in the same aisle at the same time. Why is this restriction in place? When two vehicles are moving towards each other at relative speed, a large protective field range must be in place to ensure that the vehicles can be brought safely to a stop, even when traveling at full speed. In their bid to provide reliable protection against collision, companies must make sure that a long enough stopping distance can be guaranteed. The answer? The S3000 Anti Collision by SICK.
S3000 Anti Collision: Safety AND more throughput
SICK is more than familiar with the subject of collision awareness. In the outdoor environment - for example, in container terminals - 2D laser scanners enable collision-free operation of cranes and containers throughout the world. Working closely with Jungheinrich, SICK has developed the S3000 Anti Collision, the worlds first mobile personnel safety system (PSA) that is able to safely detect both vehicles and humans. The S3000 Anti Collision is able to safely detect oncoming vehicles in its target range which spans up to 15 m - this is all thanks to a separate field (the collision protection field). At the same time, the S3000 Anti Collision monitors a permanent protective field of up to 7 m to safely detect human presence.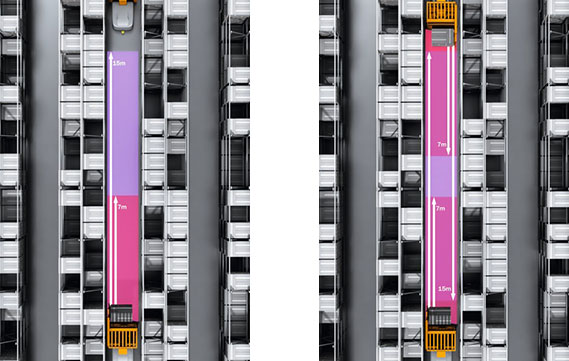 Detection of a second industrial vehicle driving in the same direction (left) and in the opposite direction (right)
Motion Control: Only scanning what is absolutely necessary
Working in conjunction with the Flexi Soft modular safety controller and the Flexi Soft Drive Monitor, the S3000 Anti Collision provides users with the opportunity to use speed-dependent switching: If one of the safety fields is breached, the scanner transmits a signal to the vehicle control unit, requesting it to reduce the vehicles speed. The Drive Monitor registers the reduction in speed and shares this information with the scanner, which then reduces the field width in accordance with the speed. If a further infraction occurs, the speed is reduced once again or the vehicle is stopped straight away. However, the vehicle is only stopped when actually necessary. This reduces strain on the system while also helping to improve efficiency.