Motor feedback systems linear HIPERFACE<sup>®</sup>
Motor feedback systems linear HIPERFACE®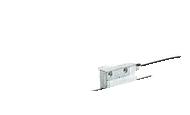 Absolute, non-contact length measuring systems for linear direct drives
Linear motor feedback systems with HIPERFACE® comprise a combination of incremental and absolute encoders, successfully uniting the advantages of both encoder types. Thanks to the use of highly linear sine and cosine signals, the high resolution required for speed regulation is reached based on interpolation in the drive controller. The sine and cosine signals are generated in a read head with integrated evaluation electronics which is guided along the measurement path without touching it.
The systems are used whenever measuring systems need to meet the requirements of high traverse speeds and simple mounting, e.g. on palletizers, paper machines or linear motors.
The HIPERFACE® interface has become established as the standard interface in the market as a result of features such as electronic type label, temperature measurement and many more. It is used by all leading drive manufacturers.
2 results:
View:

View Gallery

View List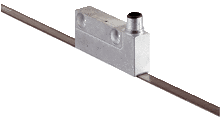 Measurement of position and speed with maximum precision
Non-contact absolute position and speed recording
With HIPERFACE® or SSI interface
Measurement lengths of up to 4 m
For high traversing speeds of up to 10 m/s
Reliable measurements, even in the event of contamination and condensation on the magnetic tape
Small, compact read head
Certified according to SIL2 and PL d (HIPERFACE® interface)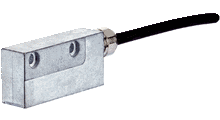 Top-speed measurement for linear motors
Absolute, non-contact, wear-free length measurement system for linear motors
Measured lengths of up to 1 m
Suitable for high traverse speeds of up to 10 m/s
Reliable location positioning even in the event of condensation and contamination of the magnetic tape
Electronic type label and programming of the position value
Absolute location positioning, no reference run
HIPERFACE® interface
Certified according to SIL2 and PL d
TOP