An adaptable machine concept that can be scaled up to meet changing requirements and, if necessary, converted to perform new tasks and installed in new locations - that is the philosophy behind the BFM automation system developed by Bachmann Engineering AG. The safety solution for the machines must be equally flexible and this is easily achieved with the SICK portfolio of safety products.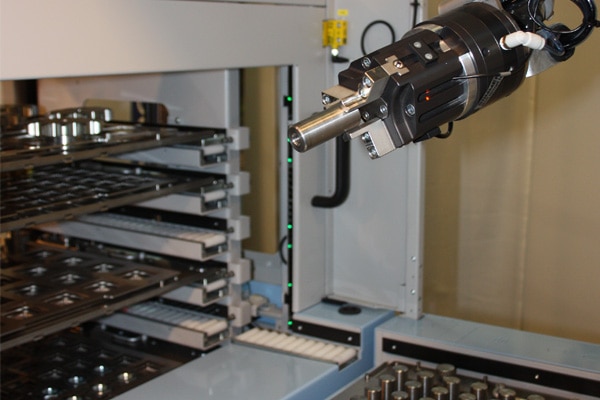 Flexi Soft safety controllers, safety light curtains from the miniTwin4 product family, S300 Mini safety laser scanners and RE magnetic safety switches have been used to create modular, space-saving protection concepts for every version of the Bachmann FeedMaster (BFM). Many of these robotic automation solutions are not simply installed in one place by our customers. Instead they are integrated into different production and handling processes in varying locations, explains Roger A. Bachmann, CEO of the company. As a result, it must be possible to design individual safety systems that are highly compact and can be adapted to the function and the installation location in question.
Maximum flexibility leads to maximum profitability
Bachmann Engineering AG, based in Zofingen in Switzerland, has more than 30 years of specialist expertise in the fields of standard and special turnkey automation solutions, robotics, handling devices, special machines, design engineering and software development. The Bachmann FeedMaster is a compact, mobile automation system that is easy to operate. It uses robots from manufacturers such as Universal Robots, ABB, KUKA and Stäubli to move parts between two machines or for direct human-robot collaboration (HRC). The BFM is a standard, off-the-shelf solution which is designed in such a way that modules can be added to it throughout its life cycle. It can also be converted quickly and easily to perform a wide range of tasks specific to each customer, says Roger A. Bachmann. Many of our BFMs are also fitted with rollers or can be moved by a forklift. This makes them even more flexible and guarantees our customers maximum productivity and profitability. Each new task and new location presents new challenges for the BFMs protection system and this is where the technological versatility of SICKs portfolio of safety products has proved its worth.
Safety systems designed to suit individual Locations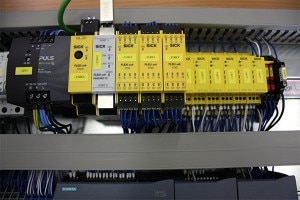 Because of the variety of Ethernet-based bus modules available, the Flexi Soft can easily be incorporated into large machines with overall control Systems.
The wide range of safety-related sensor and controller solutions from SICK makes it possible to design flexible protection systems for the BFMs and to adapt them to specific locations. For example, the Flexi Soft safety controller offers a variety of options for programming monitoring scenarios and integrating different safety sensors. Bachmann Engineering can also process the signals from SICK non-safe sensors using the Flexi Soft safety controller, for example cylinder sensors on the robotic grippers, small photoelectric sensors and inductive sensors. This allows the overall automation solution to be simplified, explains Siegfried Habermacher, head of the factory automation department at SICK AG in Switzerland. Christian Hölzle, software/electrics team leader at Bachmann Engineering, highlights another advantage of the system. Because of the variety of Ethernet-based bus modules available, the Flexi Soft can easily be incorporated into large machines with overall control systems. This makes the integration of the BFM much simpler from a control engineering perspective.
The highest possible levels of safety
The miniTwin4 safety light curtains also offer a comprehensive range of functionality. This includes sender and receiver elements in one housing stick, a miniature design, precision scaling of protective field heights and a monitoring system with no blind zones as a result of a very high resolution, even when installed in corners. All of this is combined with the highest possible levels of safety: PL e in accordance with EN ISO 13849-1 and SIL3 in accordance with EN 62061. The safety laser scanners from the S300 Mini family are highly flexible and compact at only 116 mm high, which makes them ideal for use in the BFMs. The S300 Mini scanners are used to prevent injuries being caused by fast-moving robots or sharp-edged components. Depending on the product version, the scanners can be programmed to cover one or more triple field sets, each consisting of one protective field and two warning fields, within a 270° protective field with a depth of up to three meters. This allows the safety system to be easily configured to the circumstances in each location and to be adapted to new and changing situations, explains Roger A. Bachmann, highlighting a key benefit offered by the safety laser scanners when a BFM is moved to a new site.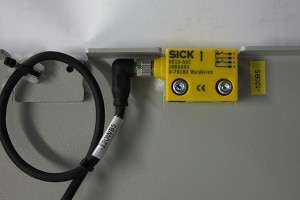 RE magnetic safety Switch from SICK within the Bachmann FeedMaster (BFM)
Where doors, optics covers or closures in the automation system require safety monitoring, Bachmann Engineering has opted for the RE1 and RE2 for human-robot collaboration applications. These are non-contact safety switches with two reed output contacts and coded magnetic actuators. The RE1 has a compact design that makes highly efficient use of space and allows for safe switch-on distances up to 7 mm. In contrast, the RE2, which also comes in a yellow housing, has an increased safe switch-on distance of 9 mm. This means that both RE versions are able to detect and resolve the alignment tolerances of switches and actuators which may be caused in certain circumstances by the vibrations of the moving robot. As a result, they guarantee the highest levels of switching reliability and machine availability, explains Siegfried Habermacher.
The package is ideal
SICKs portfolio of safe and non-safe sensor and control solutions and the technologies it uses give Bachmann Engineering and its customers the flexibility to ensure that they can fully exploit the potential of the BFM at all times. We are also very pleased with the service and support provided by SICK, says Christian Hölzle, because designing the best possible solution involves significant technical challenges and requires very close collaboration. Roger A. Bachmann sums up the situation as follows: We feel that we are in very good hands. The package is ideal.