Automated identification with RFID in inbound and outbound goods
Automated identification with RFID in inbound and outbound goods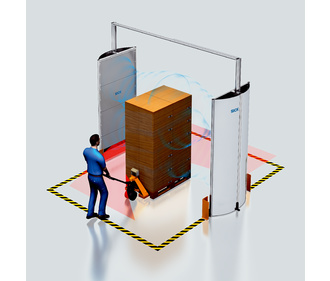 The RFGS Pro (Radio Frequency Gate System) track and trace system is available for quality and productivity increases in goods receipt and goods issue. Reading of RFID transponders is fully automatic and interruption-free. Object, speed and direction detection enable unique assignment of RFID transponders. The "false-positive read" suppression distinguishes static from dynamic transponders. Integrated service, monitoring and diagnostic tools secure a high level of performance.
Following product families can be used

The complete RFID object identification system for logistics applications

Remotely assigns tags to objects and detects the direction of the moving object
Remotely distinguishes between moving and static tags and filters them for the host message
Distinguishes between pallet and person
Stand-alone gate with integrated controller
Central interface for all sensors via CAN and TCP/IP network
Integrated service, monitoring and diagnostic tools
Parameter cloning of sensors via SD card
Greater efficiency in the entire supply chain
Intelligent sensor solutions from SICK are driving forward networking in production and logistics.
TOP