Manual master data capture for irregularly shaped objects plus photos
Manual master data capture for irregularly shaped objects plus photos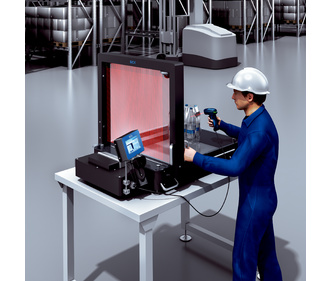 The Master Data Analyzer applies the easiest possible approach to achieve standardized recording of object master data, e.g., size, weight as well as part number and photos. Products are visualized and digitalized in real time, regardless of their shape, surface, and material properties. A high level of process security and major time savings are achieved because the product does not need to be aligned and can be measured from either direction. Accurate master data enables efficient transport processes and supports storage optimization to a high degree.
Following product families can be used

Digitization of goods for optimized logistics processes

Volume measurement accuracy of 2.5 x 2.5 x 2.5 mm and weight determination with accuracy of ± 5 g
Bar code reading of all conventional 1D and 2D bar codes
Maximum object size of 800 x 600 x 600 mm
Mobile solution with industrial rechargeable battery and WLAN technology
Greater efficiency in the entire supply chain
Intelligent sensor solutions from SICK are driving forward networking in production and logistics.
TOP