Measuring pressure, level, and temperature in hydraulic systems
Measuring pressure, level, and temperature in hydraulic systems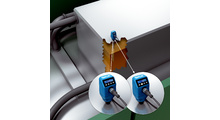 The CFP Cubic capacitive level sensor monitors the oil level and temperature in the tank within the hydraulic system of the press at the same time, regardless of the container material and medium. Small dead zones enable the measurement of even the lowest levels. Alternatively, the LFP Cubic TDR level sensor can be used together with the TBT temperature sensor.
The PBS digital pressure switch or an analog PBT pressure transmitter measures the system and forming pressure to ensure the best possible component quality.
Following product families can be used

Flexible up to the probe tip

Level sensor for liquids
No mechanical moving parts
Interchangeable rod probe which can be cut to lengths between 200 mm and 2,000 mm (cable probe up to 4,000 mm)
Resistant to deposit formation
Process temperature up to 100 °C,process pressure up to 10 bar
3 in 1: combines display, analog output (according to NAMUR NE 43), and binary output
High enclosure rating of IP 67, rotatable housing and remote amplifier
IO-Link 1.1

Universal pressure switch

Electronic pressure switch with display for monitoring pressure in liquids and gases
Precise sensor technology with stainless steel membrane
Integrated process connections manufactured from high-quality stainless steel
Pressure values indicated on display. Output states are indicated separately via wide-angle LEDs.
Unit of pressure value in display can be switched
Min/max memory
Password protection
IO-Link

Multifunctional sensor for level and temperature measurement

Continuous level measurement and temperature measurement as well as level and temperature switches
Measurement irrespective of container material
Probe from 100 mm to 1,000 mm
Display and intuitive menu navigation
No mechanical moving parts
IP 67 enclosure rating and IO-Link 1.1
No dead zone along the measuring range
Sensor solutions for pneumatic and hydraulic systems
Fluid power sensors from SICK perform measurement tasks in pneumatic and hydraulic systems – intelligently, flexibly and reliably.
TOP