Measuring automation light grids
Measuring automation light grids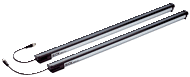 For high demands
Measuring automation light grids from SICK are ideal for complex requirements. They are modular and enable customers to select between different detection heights and beam separations. The light grids can be used at points of the material flow in conveyor belts, in automated storage and retrieval systems, in order processing and many other areas. The maximum height and therefore possible overhang can be measured in pallet detection. The measurement data can be forwarded to the PLC via bus systems.
3 results:
View:

View Gallery

View List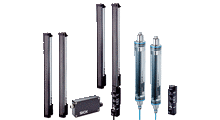 Flexible in use for length, width and height measurements
Beam separation: 2.5 mm, 5 mm, 10 mm, 20 mm, 25 mm, 30 mm, 50 mm
Operating range: 12 m
Functions: Cross beam measurement, 4 x zone measurement, high-speed scan, transparent mode
Interfaces: PNP, analog, RS485, IO-Link, PROFINET, PROFIBUS, EtherCAT®, EtherNet/IPTM, CANopen
Sun resistance mode with reliable switching threshold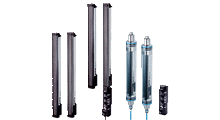 Highest precision for web width measurement
Measurement accuracy: ± 0.3 mm
Resolution: 0.1 mm
Measuring field: 3,150 mm (in 150 mm steps)
Response time: 32 μs (from beam to beam)
Interfaces: 3 x Q, IO-Link, RS-485
Operating range 2,500 mm
Interface output: 10 edges with 5 edges and 5 center positions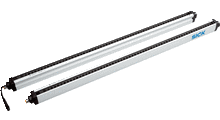 Extended possibilities
User-programmable and factory-preset versions available
Sensing range up to 8.5 m
Monitoring heights of over 3 m and up to 240 beams possible
Resolutions of 10 / 20 / 30 / 50 mm and customer-specific resolutions possible
External teach-in for optimal sensitivity settings
Short response time < 3 ms
Up to 6 PNP or NPN switching outputs and two switching inputs
PROFIBUS, CANopen, analog outputs, RS-485
This product family is being phased out!
TOP