Motor feedback systems rotary HIPERFACE<sup>®</sup>
Motor feedback systems rotary HIPERFACE®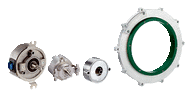 Motor feedback systems for servo motors with HIPERFACE® interface
Motor feedback systems with HIPERFACE® comprise a combination of incremental and absolute encoders, successfully uniting the advantages of both encoder types. Thanks to the use of highly linear sine and cosine signals, the high resolution required for speed regulation is reached based on interpolation in the drive controller.
Despite only one mechanical interface, SICK offers solutions for various performance classes as well. For single turn and multiturn applications.
The HIPERFACE® interface has become established as the standard interface in the market as a result of features such as electronic type label, temperature measurement and many more. It is used by all leading drive manufacturers.
8 results:
View:

View Gallery

View List
TOP