Motor feedback systems rotary HIPERFACE®
Motor feedback systems rotary HIPERFACE®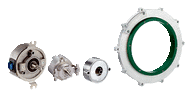 Motor feedback systems with HIPERFACE® are a mixture of incremental and absolute encoders, combining the advantages of both encoder types. Using highly linear sine and cosine signals enables the high resolution necessary for speed regulation to be achieved through interpolation in the drive.
If there is only a mechanical interface, SICK also offers solutions for different performance classes. This for both singleturn and multiturn applications.
Thanks to features such as the electronic type label, temperature measurement and much more, the HIPERFACE® interface has been established as a standard interface on the market. It is used by leading drive manufacturers.
9 results:
View:

View Gallery

View List