When changes are made in some situations, the results are instantly seen. Wind power plants and solar modules are examples of this. Visible from great distances, they are an eye-catching symbol of the revolution we are experiencing in how we produce energy. There are other important factors in achieving sustainable change, however, such as our efforts to phase out nuclear energy and the bridging technologies we are using to facilitate this – plus our continued use of fossil fuels, especially natural gas. In these areas, the most significant types of modernization and change tend to unfold in ways that we are unable to see. The ongoing development work that is taking place in intelligent sensor technology from SICK is playing a key role in optimizing processes in this field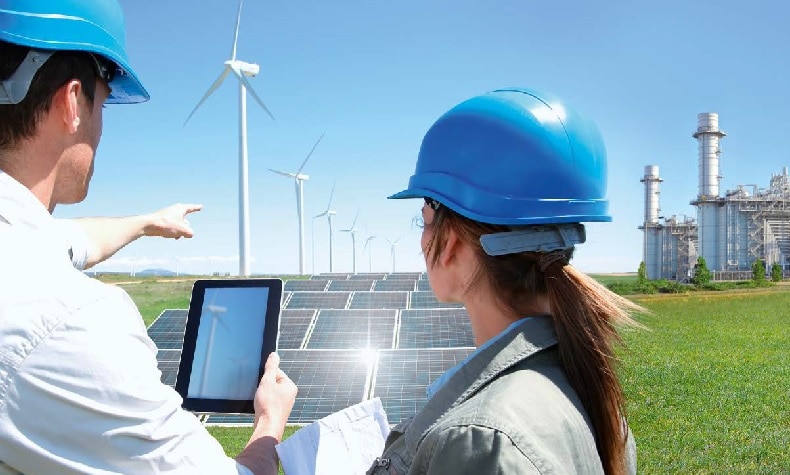 In order to respond to changes in the methods used for generating energy, companies and electricity producers need to come up with sustainable solutions quickly. The scenarios they face go beyond simply phase-out actions; It is just as important for them to adapt in line with evolving legislative positions and optimize existing processes. Evidence shows that there are potential savings of up to 10% to be made by harnessing energy-efficiency measures. Often left unexploited, these savings increasingly become an economic force to be reckoned with as measurement results improve and more accurate conclusions can be drawn from them. Sensor intelligence from SICK is one decisive step ahead of the game, delivering valid, pre-processed data directly from the point of measurement.
Knowledge is power
Knowledge is what holds the key to both exploiting sources of renewable energy and harnessing the full potential of energy generation chains. A rethink is now happening in areas where energy had previously been squandered – whether this occurred through inefficient processes or burning off natural gas as an unwanted by-product of oil extraction. What this means is adopting a policy of use rather than abuse, and staying open to the latest forms of technology. Gleaning as much efficiency from processes as possible requires smart solutions – anything from Power-to-x technologies to the successful CO2 neutralization of process chains. SICK is involved in several pilot projects in the area of P2X development, for example
A new era of devices
First and foremost, successfully converting energy losses into genuine gains on the energy market requires improved sensors as well as measurement results that are even more precise and more widely available. The main areas in which the latest sensor generations have improved are in data management, processing and preparation, and the initial classification of data directly in the sensor. From this point, the measurement results that have been processed are communicated directly to the control systems or to the cloud. However, the process as a whole does not become truly smart until the technicians and engineers involved have injected their significant experience into it. Their expertise enables signals to be interpreted and evaluated correctly, right from the programming stage – and it can be harnessed in flow measurements, particle emissions measurements, and gas analysis alike. Any maintenance that is required, and any potential malfunctions, are detected and displayed with certainty
A good example in this case is the FLOWgate™ communication software for ultrasonic gas flow measuring devices. Working solely on the basis of the signal quality, FLOWgate™ detects and calculates a wide variety of process issues that may occur due to contamination or valves that have not been fully opened, for example.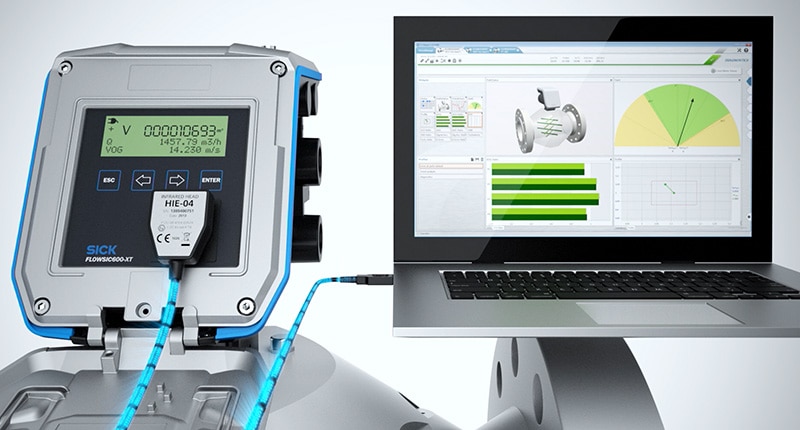 SICK maintains a presence in every single energy sector, offering a multitude of products and applications: from encoders in solar and wind power plants, to the measuring of combustion products and flows in power plants with fossil fuels, all the way through to feedback monitoring in biomass power plants. While simply collecting data used to be enough, nowadays every branch of the energy industry looks for expert methods of managing information.
Reliability, reproducibility, availability
Measurements deliver results. To ensure that energy companies are also able to take advantage of good results – which do not result in costs or energy losses that could otherwise have been avoided – there must be reliable methods of retrieving them in place at all times. Failures and discrepancies simply cannot be allowed to happen. This area of data validation is another in which SICK is assuming a leading role, offering customers complete solutions from a single source. Emissions measurement is a good example of the steps being taken. Here, the evidence shows that devices with low calibration and maintenance requirements are achieving much more than the required 95% reliability rate. This means that customers can feel secure in placing their entire process in the hands of a system like this – from ensuring compliance with all environmental guidelines to the report from the relevant authority. In the near future, SICK intends to enhance this form of data validation through smart solutions and new software products in an aim to reach the theoretical limit of 100% availability.
Gaining maximum value
SICK pushes the boundaries of what can be achieved – both when it comes to data availability, and in its work with its customers. Evolving from its status as purely a hardware supplier, SICK is becoming an industry service provider. And this is a change that is bringing added value with it. As the energy market reshapes itself, entire new business models and even more efficient and sustainable value-added chains are opening up to partners. In many cases, measuring is where they take their first steps into the field of process automation – and that is how their success stories start.
Related posts:
More gas for the energy revolution
FLOWgate™: The gate to ultrasonic gas flow measuring devices from SICK
South african natural gas distributor counts on SICK flow meters