Sawdust and wood shavings make the use of conventional safety sensors more difficult in automated wood processing plants. Nevertheless, sensors must do their job reliably and precisely for safety at work reasons. One of Europe's leading producers of parquet, Bauwerk Parkett AG , therefore relies on the microScan3 safety laser scanner to provide protection around a stacking robot. Its innovative safeHDDM® scanning technology gives it immunity to wood shavings.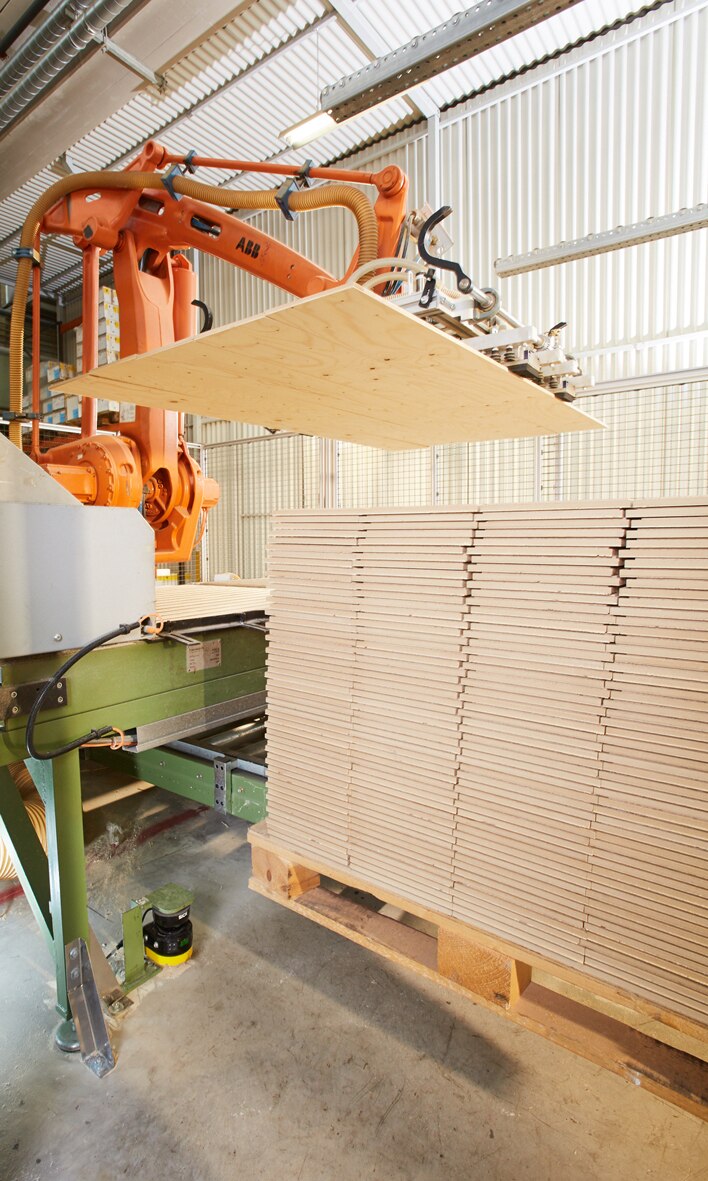 The company produces most of its range of 2- and 3-layer parquet, as well as wooden sport flooring, at its St. Margrethen production site (in the Rheintal area of St. Galler canton in Switzerland). A robot in the stacking station, used between pressing of the parquet layers and surface treatment of the boards, stacks pallets to ensure the regular supply of parquet floorboards. For space reasons, protection by means of doors or light grids is impossible due to a nearby machine. A safety laser scanner was already being used to safeguard the robot's workspace because, unlike light grids, safety laser scanners also provide protection against stepping into the machine's hazardous area from behind (and thus prevent any unintended machine restart). This safety laser scanner, however, came up against its limits whenever a cloud of wood dust was raised during lifting or putting down the wood. "Depending on the semi-finished process shavings are sometimes present, even if only a few, that collect and then usually slowly cover the entire pallet," Heinz Isele, Manager Engineering at Bauwerk Parkett AG, describes the situation. "That is up to one hundred layers on top of one another and, especially at the end, a small cloud of shavings is occasionally created during lifting with the vacuum system – triggering the scanner." This resulted in restricted plant availability. "We have been able to solve this problem once and for all with the new scanner, the microScan3 ," explains Heinz Isele.
It is fair to assume that an extremely powerful safety laser scanner is complicated to handle and operate. Far from it! The microScan3 also sets new performance standards in this regard. The new Safety Designer configuration and diagnostic software makes configuration and commissioning simple. Fields are drawn freehand and transferred to the scanner via USB. During operation the status indicators, LEDs, and display are easily visible from many angles – even from a distance.
The mounting bracket, with integrated guide rails, makes fixing and adjusting the scanner child's play. The proven light-metal die-cast housing gives the microScan3 great mechanical strength. The device is used to protect hazardous areas at loading and unloading stations; multi-sided access to machines and material sluice gates; machines in harsh environments; and hazardous points-of operation with up to 30 mm object resolution.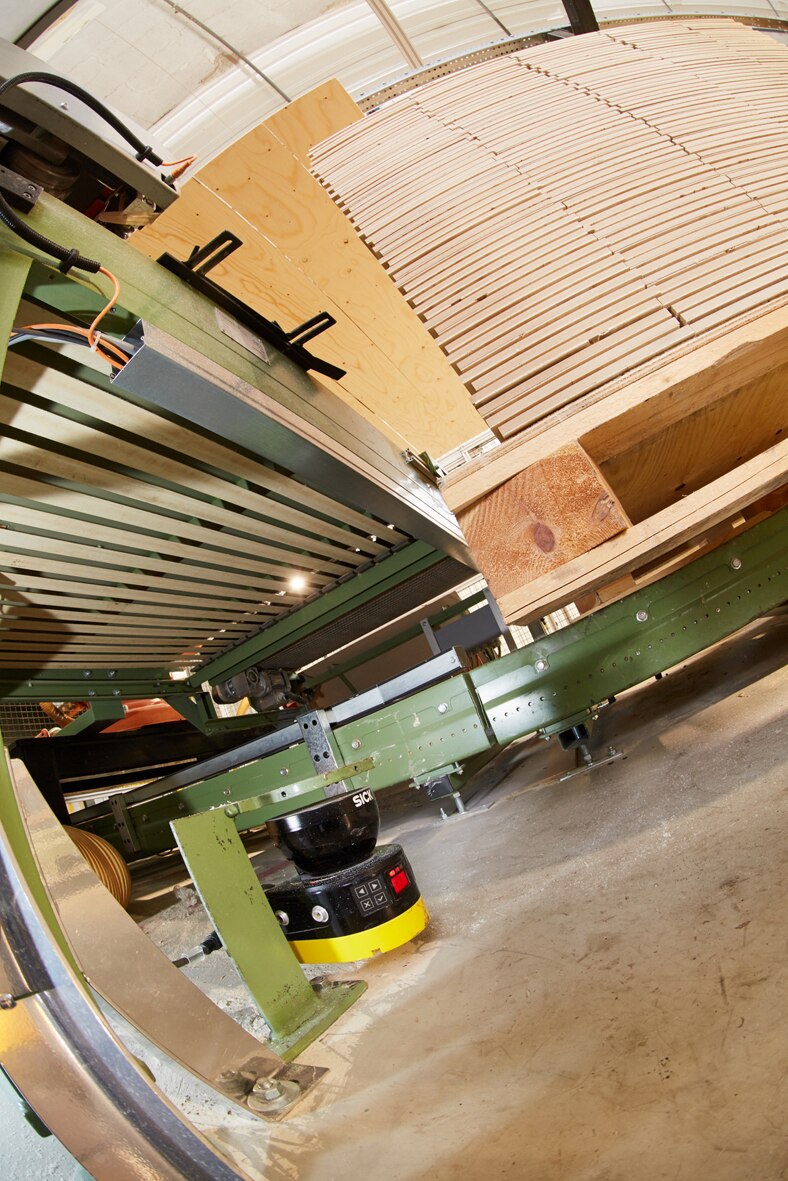 The microScan3 – also cuts a good figure alongside parquet
The microScan3 also cuts a good figure alongside parquet and provides maximum safety at work in harsh operating environments. Bauwerk Parkett AG offers 350 different parquet floors in 11 types of wood and in 57 colors. Each type of parquet is available with 5 different surface treatments and structures for variety. At the same time, the company values the wellbeing of its customers – and deliberately selects materials for healthy living. Bauwerk ensures its high quality by combining specialist competences with state-of-the-art technology. Nothing can replace visual and manual inspections by experienced personnel – even in the modern production plants at Bauwerk.
So it is a good thing that the personnel in the workspace of the stacking robot are well protected by the microScan3 safety laser scanner, and that plant availability has been increased thanks to state-of-the-art safeHDDM® scanning technology.