In industry, robots stand for rational processes, the highest precision and reproducible quality. But for art? What at first glance doesn't go together comes together at Dürr in Bietigheim-Bissingen. In the foyer of the machine and system builder, artist Joachim Fleischer created the "Weiße Zeit" (White Time) light installation, in the center of which three "misused" ready-2-spray painting robots move about. A sensor solution from SICK ensures the safety of all present - a novelty that a microScan3 safety laser scanner works as a "bodyguard" for a work of art.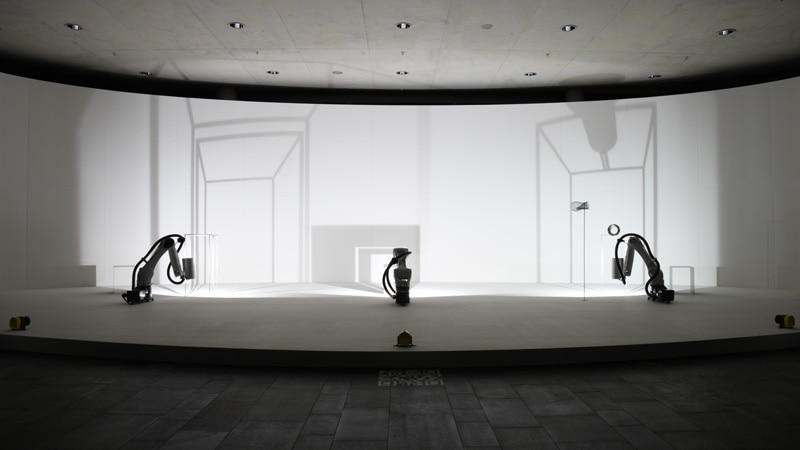 A white wood wall, a 90 square meter podium and three painting robots were the main actors. With the click of a mouse, the installation starts moving from a standstill. While moving, the robots cast light on the wall instead of paint. Constantly changing patterns of light are created by the robot movements.
Although it may look playful, it was the result of challenging technical work. Together with the experts at Dürr, Joachim Fleischer programmed the robot controls, which regulated the movements, according to his expectations. In order to present this installation in the Dürr foyer to a wide audience without the use of physical guards, a comprehensive understanding of the project, a conclusive risk assessment and a suitable safety concept were needed.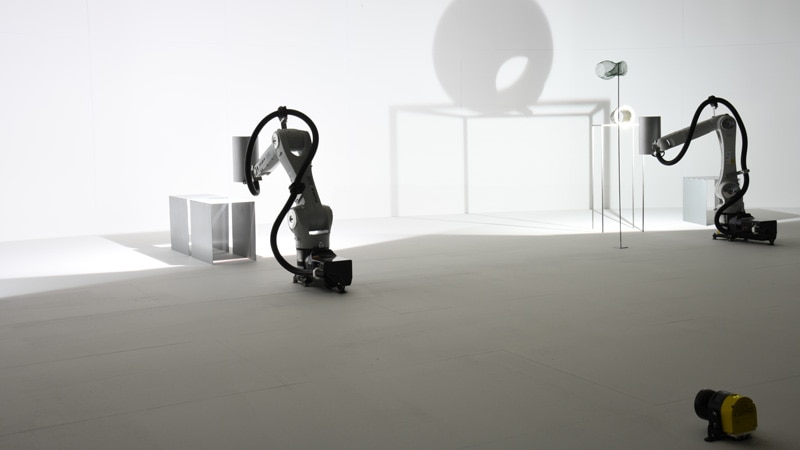 Thanks to the microScan3 sensor solution from SICK, all this was possible. The 5 vertical protective fields of the microScan3, which slightly overlapped, ensured that the robots would stop safely as soon as a person accessed the podium. Without any protective fences or additional staff. "This made it possible to dissolve the boundaries between human and robot and make observation and interpretation a conscious and sensual experience," explained Joachim Fleischer about his "Weiße Zeit".