Testing and assembly specialist Kubik Automation GmbH from Baienfurt in Germany is putting SICK's PLOC2D robot guidance system to use in its new sCube assembly cell. The team of experienced industry experts specializes in the development of innovative products and the optimization of production processes for automation technologies. Tailor-made special machines are developed for the automotive, electromechanics, medical technology, and consumer goods sectors.
From the perspective of manufacturers, the requirements placed on the flexibility of automation solutions are increasing. With the sCube, several different parts can be handled by a single machine without having to change the entire production process.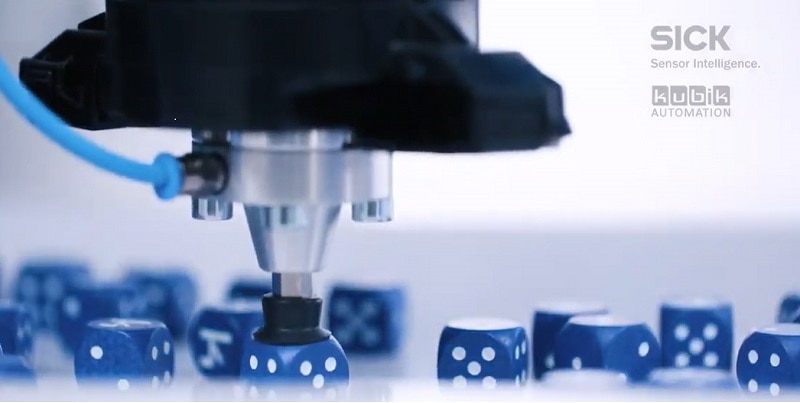 Anyfeeders are ideal for applications involving different parts where products are changed frequently. They convey and flip small parts without refeeding and without the use of conveyor belts. An anyfeeder is generally made up of three components which work together: an intelligent vibration unit combined with a magazine which separates small parts and realigns them, a vision system which localizes the parts, and a robot which picks up the parts and moves them on.
Teamwork of components is successful
The work sequence follows the interaction of the three components described. The PLOC2D robot guidance system from SICK quickly and reliably detects the position of all parts and transmits position data and orientations to the robot control system. Using this information, the robot is able to pick the correctly aligned parts and feed them to the next process. Any parts that are not properly aligned are ignored. Once the properly aligned parts have been removed, the remaining components in the pick zone are mixed up again by a pulsed vertical oscillation from the vibration unit.
The PLOC2D is a vision system for two-dimensional part localization. It consists of high-quality image processing hardware and is equipped with an extremely high-performance localization algorithm for reliable and fast part localization. What's more, the PLOC2D particularly impresses thanks to its short setup times. It does not require any programming knowledge and can be put into operation straight away following a simple configuration and parameterization process via a web browser. Thanks to the EasyTeach method, it can also be tailored to different parts and can be integrated into numerous robot brands and PLCs. In essence, the robot guidance system from SICK brings order to the chaos of part localization.
Read more:
Making hard things easy – A safety solution for a mobile heavy-load robot
Smart Motor Sensors from SICK are ensuring HIWIN robots are safe and fit for the future
Universal Robots and SICK head towards the factory of the future
Cobots Claus and Clara: collaborative robotics with SICK safety
Working together as equal - sensor solutions for robotics