The TRANSIC100LP laser transmitter has exactly the right nose for oxygen – and a customer's own comparison has proved this. Pitted against the established method of paramagnetic measurement, TDLS technology is able to offer a lower initial investment level for measuring stations, and much more besides: It also considerably reduces operating and maintenance costs for controlling inerting processes.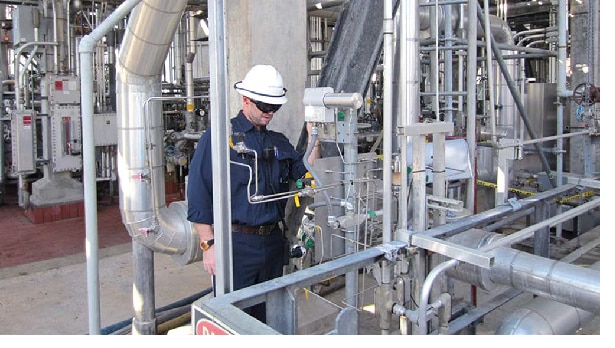 When it comes to controlling inerting systems, the range of measuring techniques is varied. To date, the tried-andtested solution of paramagnetic oxygen analyzers, extractive measuring devices, have always been the industry standard. Now it is becoming clear that TDLS (Tunable diode laser spectroscopy) is taking over the role of best-practice technology for oxygen measurement.
Oxygen and TDLS technology
TDLS is already a well-known technique for highly selective measurements and, up to now, has found its place in demanding chemical and HPI tasks as well as combustion monitoring applications. Its advantages lie in the level of robustness it offers, its resilience to disturbances, and its minimal maintenance requirements. Now, thanks to the new generation of TDLS process transmitters from SICK, this technology is available at a price that makes it a very attractive option for standard measurements. Already been proven successful at more than 500 measuring stations, the TRANSIC100LP has been developed as an intrinsically safe version (in line with ATEX/IECEx) for installations in zone 1 and measurements in zone 0, and can be used both in-situ and with extraction.
Onto a winner
After a year of testing, the American chemicals company which carried out the comparison did not take long to reach a decision. It had been looking for an alternative type of measuring technology after encountering repeated problems with its paramagnetic oxygen analyzers. What also really mattered was that the device had to be easily accessible when installed on the tank; ideally, a gas conditioner would not necessarily be required and it would be possible to calibrate the equipment on site. Ultimately, it was the TRANSIC121LP laser transmitter, with FM approval for use in Ex-protected working environments, that won out over the competition. The PTFE filter designed to protect the transmitter meant it was possible to do away with the gas conditioner altogether. Additionally, a straightforward extractive gas sampling system enabled the transmitter to be installed in a way that made it easy to access. Finally, the equipment has made the job of calibration using nitrogen and ambient air much easier for the maintenance staff.
Down with costs!
The company scrutinized and evaluated the two measurement principles under entirely neutral conditions, looking at factors including cost. In this particular area, the TDLS technology and transmitter concept proved a clear winner: In fact, gas conditioning costs dropped to virtually zero. Similarly, installation costs fell by three-fourths and the financial outlay associated with TDLS measurement amounted to 64% less than the paramagnetic measurement principle. Even when it came to maintenance, the TRANSIC figures spoke volumes: This technology effortlessly saved 75% of expenses. While one hour's maintenance work on the gas conditioner per month was logged in the case of TDLS measurement, paramagnetic measurement clocked up four hours per month. What is more, the results showed that the TDLS measuring station required just a fourth of the parts and consumable materials that paramagnetic measurement did over the course of the year.