Flück, a firm specializing in conveying systems and special-purpose equipment, has modernized a winding and binding machine using sensors and control technology from SICK. At the Geberit Tubes Composites production site in Givisiéz, an M4000 multiple light beam safety device with muting function, a deTec4 safety light curtain, and a Flexi Soft safety controller are now ensuring the highest possible standard of machine safety. The modernized system is also equipped with a DT50 distance sensor, some WL140 photoelectric sensors, and some MZT8 magnetic cylinder sensors, which are responsible for various detection tasks.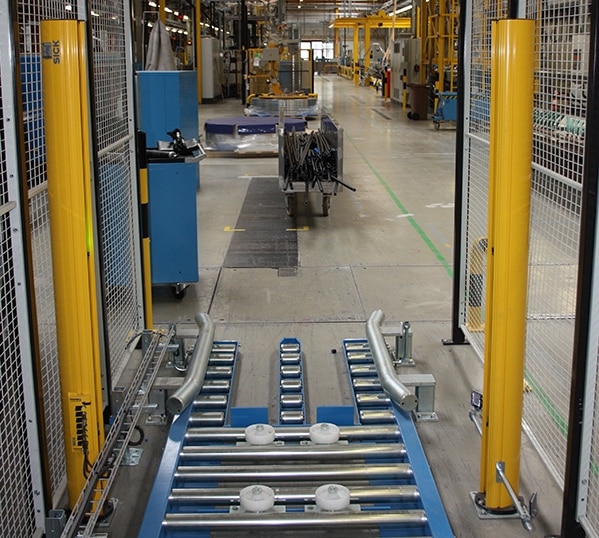 Retrofit after 15 years of operation
It was only a few days into the new millennium when the tube winding machine at Geberit Tubes Composites was first commissioned. The company is part of Geberit AG, which is based in Rapperswil-Jona and is the European market leader for sanitary ware. The tube winding machine processes flexible tubes for heating and sanitary equipment, which are fed directly into it from a production machine. To create units that are ready for transport and shipping, the winding machine winds the tubes onto reels and then binds them. That was one of the key challenges of the retrofit work, recalls CEO Marcel Flück, Whenever the binding material had to be reloaded, and also whenever a system fault occurred, a binding system stoppage was necessitated by the process and - in turn - this interrupted upstream production as well. However, the objective he had in mind was not just to increase system performance by separating tube production from the winding/binding system; he also wanted to update the system in line with the latest safety standards. Flück Fördertechnik AG was tasked with improving both productivity and personal safety.

Flück Fördertechnik AG: A specialist in intralogistics and the construction of special-purpose machinery
High-quality conveying systems and special-purpose equipment - that is what Flück Fördertechnik AG has been promising ever since it was established back in 1984. By combining its own products with components from renowned system partners (such as robots from Kuka), the company is able to create innovative complete solutions that cover everything from development, production, and on-site mounting and commissioning through to a maintenance and repair service. The company achieves 70% of its sales in Switzerland, with the remaining 30% shared between neighboring EU countries. There is virtually no logistics or handling task that we have not yet tackled, sums up Marcel Flück. And nowhere is that more true than in the retrofit business, which is forever throwing up new surprises and new challenges. In this respect, his company was exactly the right partner for Geberit. As we were for Flück, adds Roger Stettler, an industry account manager at SICK AG in Stans. It does not take long for Marcel Flück to rattle off the reasons for this: the quality of its products; its ability to meet delivery deadlines; the breadth of its portfolio of single-source, complete solutions; the right kind of price - and the fact that, unlike other companies, it provides us with expert advice. And it was no different with the Geberit project.

Advice and a complete solution from a single source
The key to modernizing the winding machine was to add a robot-assisted handling cell with two independent binding stations. The process now has redundancy built in - if binding material has to be reloaded or if a fault occurs, it does not lead to a stoppage of the entire system, says Marcel Flück. As a result, the capacity of the system has improved enormously. The tube material is no longer bound as soon as it has been wound onto a reel. Instead, a robot removes it from the winder and hands it over to one of two binders. A DT50 distance sensor on the robot gripper arm ensures precise presence and position detection when handling the tube reels. On completion of the binding operation, the robot places the reel on either a roller conveyor or a pallet so that it can be taken away.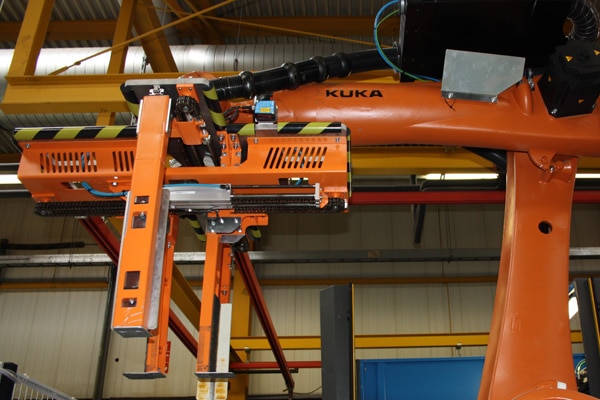 The robot cell is completely surrounded by a safety fence. The only openings are where the robot takes the reel from the winder, where it hands it over to the conveyor belt, and where the pallet space is. For all three points, SICK was able to recommend the best solution from both a technical and a commercial perspective, says Marcel Flück. Between the winder and the robot cell, there is a detec4 safety light curtain, which - as well as having no blind zones and being easy to mount - meets the requirements for PL e (the highest possible level of protection). The same goes for the M4000 multiple light beam safety device where the reels are transferred to the pallet. Here, a muting function was also implemented so that pallets can be handled or collected without having to shut down the tube winding process or the robot, explains Sascha Ceccotti, an application engineer at SICK AG in Stans.
Transfer to the conveyor belt is not relevant from a safety perspective - here, a WL14 photoelectric sensor detects when a bound reel is placed on the belt and carried away.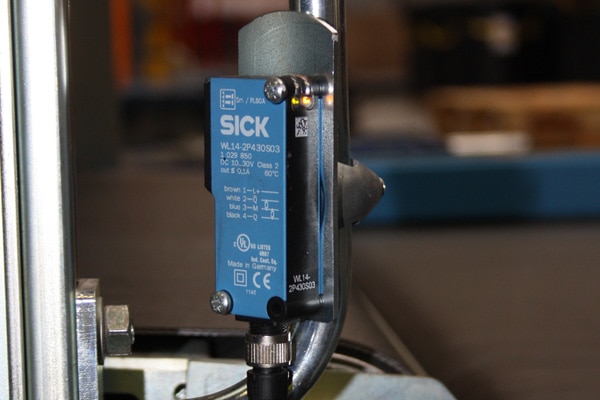 Remote access configured
All safe/non-safe signals and processes are managed by a Flexi Soft safety controller. As this is programmable, it meant one less controller for Flück as part of the overall implementation, explains Roger Stettler, drawing attention to an important commercial factor. Another highlight is that remote maintenance over the Internet can be configured with the help of the controller and a PC with remote access. The connection is easy to program - and SICK supplies the necessary software free of charge, attests Marcel Flück. In conjunction with maintenance contracts, this means that maximum availability can be achieved.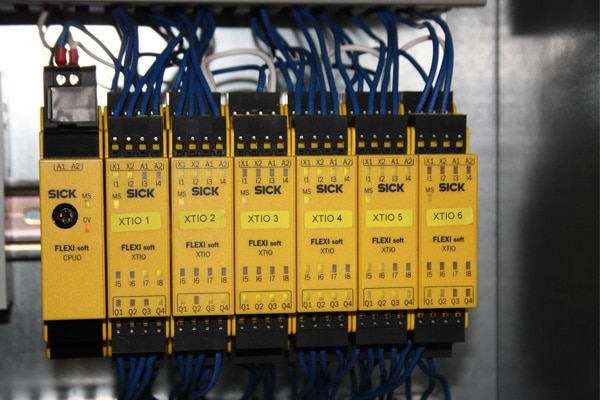 Retrofitting without any risks: short project duration, rapid increase in productivity
All the system retrofit work was completed in next to no time. The project spanned only two months from kickoff through to final acceptance, taking in all the sensor and control tests, preliminary acceptance, and installation and commissioning at the Geberit site along the way. Because SICK acts as a single source of advice and offers a fully integrated sensor and control technology concept, interface risks - and, in turn, unnecessary delays - are ruled out at the planning and implementation stages. Retrofitting without any risks: The system was up and running again in a flash. It is much more productive than before and meets the latest safety standards.