Nowadays, machine and plant operators are faced with a challenging task: creating flexible production workflows with a high Level of automation while at the same time ensuring that people, machines, and plants stay protected. As one of the technology and market leaders in industrial safety technology, SICK is a one-stop shop providing a comprehensive range of safety solutions. Its safe motion monitoring system, Safe Motion Control, includes innovative safety concepts that have been developed for safe Monitoring of drives and machine motions. This makes it possible to increase the availability and efficiency of machines while offering a high degree of safety.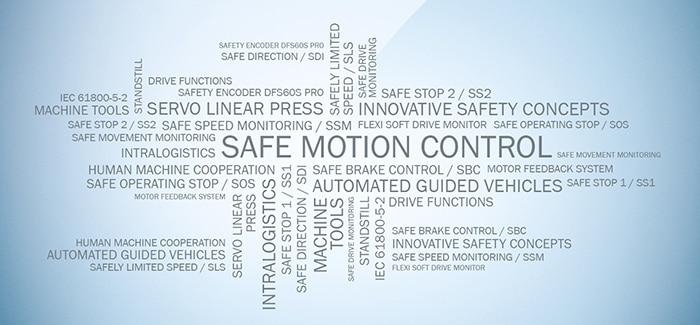 The way in which interactions between humans and machines are shaped is set to have a significant effect on performance and productivity in tomorrows industrial Environments.Innovative safety technology concepts such as Safe Motion Control make it possible to monitor the movement of a machine at any time, helping ensure that interaction between machines and their operators remains safe. By safely monitoring the machine Parameters of speed, travel, and acceleration, it is possible to draw an exact distinction between the machine movements which are dangerous and those which are safe. All the signals from the safety sensors and actuators can be combined, generating information that indicates whether a machine operator is actually in danger when he or she enters or creates an interruption in a hazardous area. This means that it may be possible for operators to intervene in the machine even while the process is running - preventing interruptions, minimizing downtimes and unintended shutdowns, cutting down cycle times, and boosting efficiency and availability in machines and plants.
Safe monitoring of automated guided vehicles - Using spaces more efficiently
SICK, consisting of the DFS60S Pro safety encoder and the Drive Monitor FX3-MOC0, is the ideal solution when it comes to safe drive and motion monitoring for mobile machinery such as automated guided vehicles (AGVs). This combined safety solution helps machine manufacturers and system integrators save time during not only system engineering, but approval procedures too. What is more, it keeps technical and legal risks to a minimum - such as those associated with self-evaluation of solutions using non-safety-certified standard products. The Drive Monitor FX3-MOC0 Expansion module developed for the Flexi Soft safety controller reliably captures the direction of travel and speed parameters of the AGV, as well as providing all the most commonly used interfaces for encoders. Encoders can be connected to the Drive Monitor FX3-MOC0 at a central point and used for monitoring the direction of travel, the speed, or even the brake ramp. This monitoring feature opens up the possibility of optimizing the protective fields associated with the safety laser scanner attached to the AGV - and the space available for movements to take place can be used more efficiently as a result.
DFS60S Pro safety encoder - Safe Monitoring with just one Encoder
The DFS60S Pro safety encoder is attached to the AGVs drive axis and provides support for performing safety functions such as SSM (safe Speed monitor) and SLS (safely-limited speed). Interaction between the encoder and the control system enables the control system to reduce the speed of the AGV as necessary. The SBC (safe brake control) and SS1 (safe stop 1) or SS2 (safe stop 2) drive monitoring functions make it possible to trigger and safely monitor an emergency stop of the AGV. The DFS60S Pro safety encoder also acts as a reliable signaling device for automated guided vehicles that have complex navigation requirements. As AGVs are given more and more freedom to move around, safe movement Monitoring has to overcome the obstacles that this brings. Transport vehicles with differential drives feature two Independent drive units, enabling movements such as rotation on the spot. Without safety-certified encoders, executing complex processes like these would require significant time and effort to be spent on creating the right control system. The certified DFS60S Pro, on the other hand, provides a simple and safe way of recording direction of travel and speed information, resulting in safe movements. In turn, this makes it possible to create separate, Independent travel profiles for vehicles.
Advantages of an integrated safety concept:
This concept can be implemented using not only HIPERFACE® motor feedback Systems (SRS/SRM50 and SKS/SMK36), but also motor feedback systems featuring the HIPERFACE DSL® digital Interface (EFS/EFM50 and EKS/EKM36). The single-cable technology used with HIPERFACE DSL® cuts the amount of cabling work the manufacturer has to do in half.
Product Information: Speed Monitor, Flexi Soft Drive Monitor, Standstill Monitor, DFS60S Pro, SKS/SKM36, SRS/SRM50, EKS/EKM36, EFS/EFM50
Product Portfolio: Motion Control safety controllers, Safety-Encoders, Motor feedback systems rotary HIPERFACE DSL

®

, Motor feedback Systems rotary HIPERFACE

®

Further Information: Safe Motion Control