Virtually all system operators need to operate machines efficiently even when batch sizes are small, when products and formats need to be changed frequently, or when packaging varies in terms of design and size. A key part of meeting this requirement is encoders, which can be adapted quickly and easily to the specific requirement at hand. Thanks to additional intelligent functions and the suitable communication interfaces, all relevant data for diagnostics and for monitoring the entire system is also analyzed and transmitted directly in the encoder, including visualization.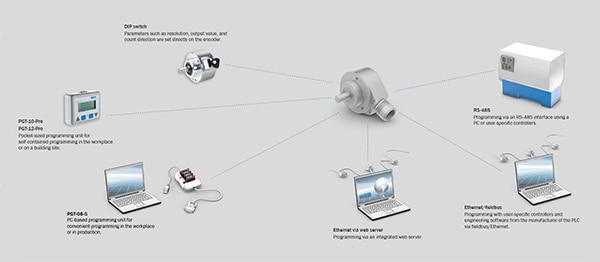 Those who really want to offer efficient solutions for programming (and therefore changing the parameters of) encoders or inclination sensors must take into account the various target groups and applications: Is programming carried out by developers or service technicians? Is it to be used in a small production series or in a highly automated plant? SICK offers numerous options for programming its encoders, and consequently always has the right solution: from compact, lightweight display units and PC-based tools to integration in controllers and web-based user interfaces.
Programming on the fly
Incremental and SSI absolute encoders can be programmed using a PC, industrial PC, or a controller supplied by the customer via the RS-485 interface. The advantage is that programming can be carried out without disconnecting the electrical connection and therefore during the process. This means that a new encoder setting can be selected within seconds and rapid changeover of the machine is guaranteed. No programming software is required as control commands perform the programming process directly. This supports optimal integration into the relevant controller landscape.
Always ready to hand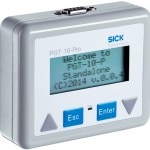 Ideal for use in customer service and in servicing: The lightweight, mobile PGT-10-Pro programming unit is able to work in a fully self-contained manner thanks to an integrated voltage supply. This means that numerous programming functions are available at any time and without the need for time-consuming installation (plug and play) and regardless of your PC hardware or software. You can run diagnostics on the encoder without having to dismantle it because the encoder output values (position or speed) are shown on the display. In addition, the cloning function saves time and reduces the risk of faulty programming when using multiple encoders with the same configuration.
Webserver, additional functions, and visualization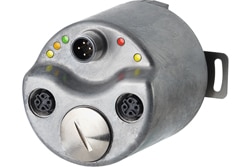 Encoders with Ethernet-based fieldbus interfaces offer even more flexibility in terms of commissioning, changeover, and monitoring. If the web server is integrated directly into the encoder, as with the AFS/AFM60 EtherNet/IP™, this allows greater insight into the application: Various parameters of the system and potential decisions that can be drawn from it are evaluated and visualized, after which they can be retrieved at any time. This also includes extensive additional functions which calculate the required data directly in the encoder and where necessary can display it over the web server - all without any loads being applied to the machine controller. The visualization of all encoder features and diagnostic functions on a screen allows the user to change parameters quickly and easily, output data to the controller, and gain an understanding of diagnostic data via the graphical display. Users can therefore configure and/or analyze encoder data as well as optimize service intervals wherever necessary, regardless of location and with access to LAN or WLAN via Wi-Fi switch. This can be carried out on-site and directly in the application, in a laboratory environment, a warehouse, or an office - even without a controller.