As the trend towards ever more powerful machines continues, ways of protecting them are also in need of constant development. Safe movement monitoring helps to keep risks to a minimum, as it not only enables mobile applications such as automated guided systems to be made more efficient, but even stationary applications, too. As part of the "Motion Control" range, SICK offers safety products that monitor the safety of machine movements. The latest member of this product family is the new drive monitor module, which offers even more flexible, high-performance drive monitoring that allows the operator to reach into the machine at reduced risk without having to switch it off.
It is as if SICK's Drive Monitor FX3 MOC was made for use in automated guided vehicles (AGVs). Even when using encoders that have not been certified for safety, the Drive Monitor's safety functions enable the speed of an AGV to be monitored with ease. What's more, it can switch between the warning and protective fields of the safety laser scanners that are integrated into the vehicle safety concept and even monitor the electrical braking of the AGV.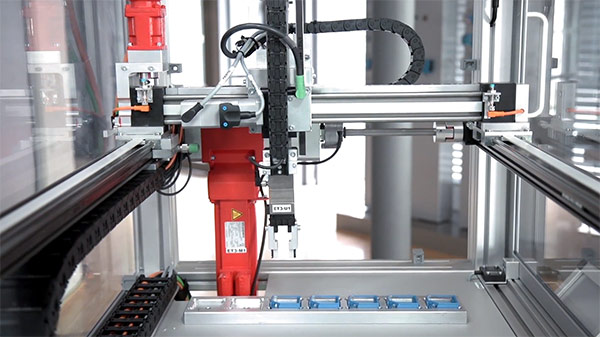 When working on or in a stationary machine, such as a press, a woodworking or metalworking machine, or a gantry robot, the Drive Monitor safely monitors speed, standstill, direction of movement, and stop function. The machine cycle need not necessarily be completely stopped during setup and maintenance; at reduced speed, it is possible to access the machine manually with minimal risk of injury. This allows the Drive Monitor to improve the machine's productivity. Malfunctions are detected and the machine drives are shut down.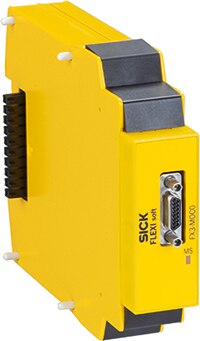 Drive Monitor FX3-MOC
By using the Drive Monitor FX3 MOC, it is possible to fully integrate safe drive monitoring into the SICK Flexi Soft safety controller - without splitting up the safety functions on the control or drive levels. By making a clear distinction between automation and safety technology, this approach gives machine manufacturers and integrators freedom and opportunities for customization. As a result, both drive components and their suppliers can be selected individually, allowing procurement costs, operating costs, and maintenance costs to be optimized, for example. In contrast to safety integrated solutions, this offers a high degree of independence from the manufacturers of controls and drives, and optimum adaptability to the different requirements of end users. This applies to both mobile and stationary applications, where the Drive Monitor FX3 MOC is capable of performing extensive security functions. In terms of monitoring electric and hydraulic drives, the Drive Monitor complies with the PL e safety levels according to EN ISO 13849, SIL3 according to IEC 61508, and SIL3CL according to EN 62061. As a result, even drives that have not been certified may be used in safety applications.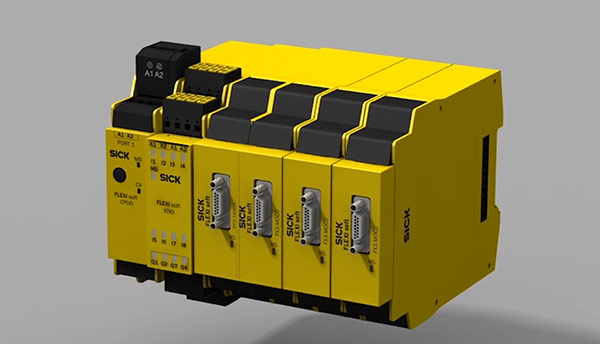 Multi-axis applications benefit from the Drive Monitor's ability to migrate: It is possible to expand the FX3 MOC by adding up to six modules. Flexi Soft gateways ensure that the Drive Monitor can be integrated safely into all major fieldbus and network environments in a way that is both technically and economically efficient. With the new drive monitor from SICK, collaboration between human and machine is even safer and more efficient:
Safe movement monitoring instead of shutdown
Drive components and their suppliers can be selected individually
Up to six Drive Monitors are possible on a single Flexi Soft main module.
Encoder and motor feedback systems already in use can continue to be used
Encoders can be combined with flexibility and at will
In addition to safe drive monitoring, SICK also offers a complete portfolio of safety technology, as well as all required sensors such as encoders and distance measuring devices
Safe drive monitoring from a single source

Motion Control from SICK opens up countless opportunities for integrated and economical drive monitoring at the highest level of safety technology. What's more, as SICK also has sensors that are not safety-oriented (encoders or motor feedback systems, for example), a complete safety application including drive monitoring can be provided by a single manufacturer.