With the new 3D vision sensors in the Visionary-B and Visionary-T product families, SICK is offering innovative 3D snapshot technologies for use in industrial applications.The Visionary-B CV uses stereoscopy to calculate the space and depth information for the objects located around it in real time (this even includes stationary objects).
[caption id="attachment_25614" align="alignnone" width="600"]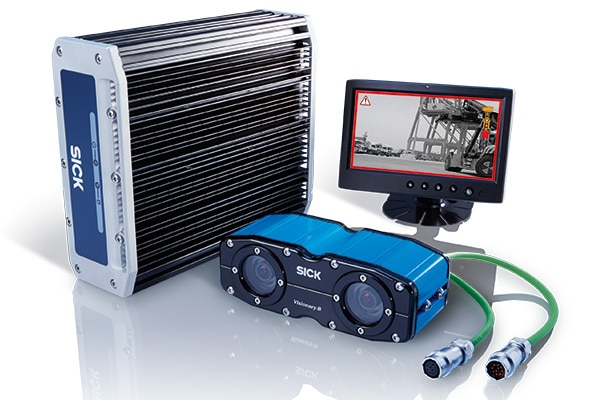 Efficient plug-and-play solution for outdoor use: Visionary-B.[/caption] Thanks to intelligent data evaluation, the
Visionary-B CV
is ideal for assisting drivers in difficult off-road commercial vehicles such as those found in ports and mines or on construction sites. If an object is located in one of the two preconfigured alarm zones, the sensor will trigger an audiovisual alarm via thedisplay if the situation is critical. The Visionary-B CV supplies fully preprocessed information and digital signals with significant data compression for this purpose. The sensor, the display, and the evaluation unit are a turnkey total package: easy to configure, ready for operation in next to no time, and easy to use. Both high reliability for data acquisition and the mechanical ruggedness of the sensor head are ensured. The sensor also boasts a high temperature range.
Tailor-made: Data quantity and required information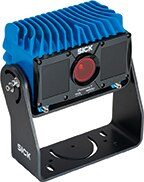 The
Visionary-T
delivers full flexibility for all manner of indoor applications: Based on time-of-flight measurement, the sensor provides depth information for every pixel in real time. Up to 30 three-dimensional images are made available per second. Whether in stationary applications or industrial vehicles, depending on the product - Visionary-T CX or Visionary-T AG - all 3D raw data or preprocessed information that is relevant to the application is delivered. The Visionary-T AG is able to calculate what information is actually needed directly in the sensor and, thanks to data reduction, is perfect for vehicle applications such as collision awareness, obstacle awareness, or navigation assistance. The Visionary-T CX delivers all of the 3D raw data for processing and evaluation item by item. The result: Tailor-made solutions that deliver precisely the information that is truly relevant to the application.