In virtually every country, quality requirements are increasing, innovation cycles are getting shorter, and wage costs are rising. As a result, demand for robot-based automation solutions is growing within the electronics industry. Easier collaboration (e.g., thanks to compact and lightweight robots) is opening up additional applications for the market and offers huge potential for new customized automation Solutions.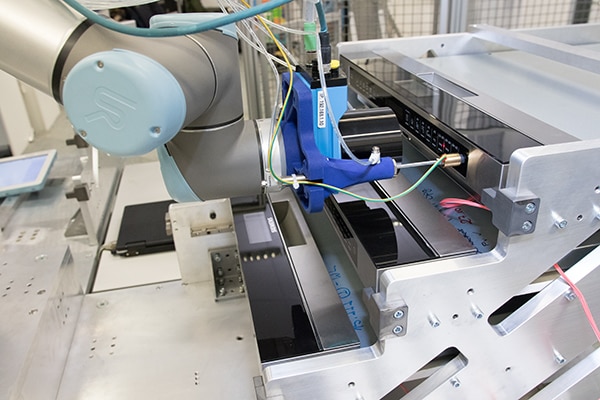 The new InspectorP65x programmable 2D camera from SICK can be used in TFT display test cycles and quality tests.
Until now, the possibilities for automation within electronics production have been limited. Conventional robots have often proven inflexible, been too expensive to buy, and have been too big and bulky. Now all that is changing with the advent of new and lighter robot arms. As well as being lightweight, compact, and flexible - and easy to program and operate - these robots are becoming suitable for more and more applications. Without any need for laborious installation work, they can take care of monotonous tasks and increase the efficiency of production processes. And if the robot works side by side with workers instead of operating on its own or if it functions as mobile robot station, SICK offers perfectly aligned sensor solutions from a single source to help ensure safe collaboration and movement.
When what counts is maximum repeatability and precision
To enable the robots to see, sensors have to take them by the hand so to speak. Robot guidance that uses 2D or 3D image processing to locate objects plays a key role in optimizing industrial production processes. If a robot is forced to work in an environment where the conditions do not remain constant, it cannot manage without a camera system. The robot has to be told how a component is positioned or whether its position has changed so that it can adapt to product variations. This enables it to assemble components that previously had to be put together by hand because they could not be processed by automatic placement machines (such as smartphone enclosures or electronic components for the automotive industry). And it can do this with maximum repeatability and precision. Without any need for laborious installation work, robots can take care of monotonous tasks and increase the efficiency of production processes. They can compensate for mechanical inaccuracies and can - within certain limits - cope with unknown situations while still delivering highly accurate measured values.
Not just a question of visual judgement and mechanics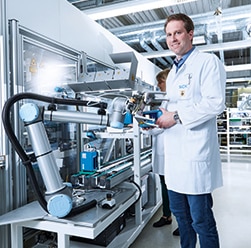 The robot detects the positions of predefined objects using the Inspector PIM60 2D camera, which can be mounted on the robot itself.
The Inspector PIM60 2D camera from SICK is already a proven component for robot guidance applications. The robot uses the camera (which can be stationary or mounted directly on the robot) to detect the positions of predefined objects and can decide for itself how to grip the part. This does away with the need for mechanical attachments such as object guides. In addition, the system relieves employees of non-value creating tasks such as resorting parts on a vibrating table. The system can also be used for measurements and quality inspections, e.g., monitoring of adhesive beads. Using a pattern, optical monitoring systems compare the position, gaps in, and quality of the adhesive used in the joining process and document any errors. The camera sensor allows complete contour inspection and workpiece monitoring immediately after the adhesive is applied. The components are adaptable, resulting in maximum flexibility. Thanks to the open platform, many robot systems are easy to reconfigure and adjust for new production tasks. If specific techniques and processes are required, they can be added with ease.

SICK AppSpace for tailor-made application Solutions
The new InspectorP65x programmable 2D camera from SICK can be used in TFT display test cycles and quality tests. For instance, the operating buttons can be pressed by a robot finger to test the operating performance. And if the layout of the touch screen changes, the customer- specific app of the programmable camera can be easily adjusted to accommodate this. The InspectorP65x camera is part of the innovative SICK AppSpace eco-system, which is made up of programmable sensors, cameras, other programmable products, and a software platform. The shared developmentenvironment needed to create a wide range of SICK products provides a high level of investment security. Because the sensor apps can be reused on various programmable sensors, less development work is required. Furthermore, existing solutions can be adjusted to future tasks on site at a later date.
INDUSTRY 4.0: SICK AppSpace brings together software and hardware, and consists of two elements: the programmable SICK sensors and SICK AppStudio, a development system for applications. The flexible architecture and the programmable devices make it possible to generate data for cloud services in the context of Industry 4.0. The software sits in the sensor and can transmit information directly from it. As a result, SICK AppSpace provides users with optimu support in the areas of quality control, traceability, and predictive maintenance.