Now in the leaders yellow jersey: Presenting the new RE1 and RE2 safety switches, SICK complements its portfolio with two product families that open up a great variety of possibilities in conjunction with safe sensor and control solutions.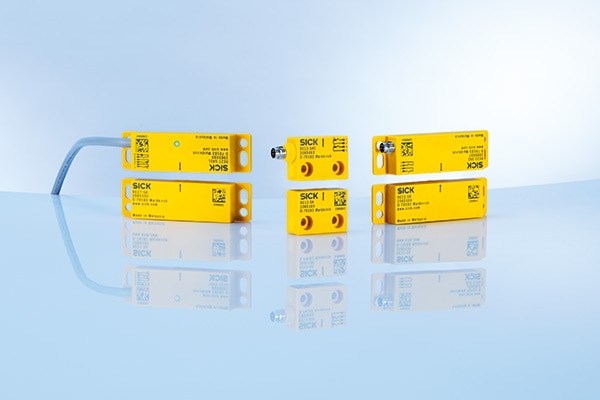 For instance, the new magnetic safety switches from SICK can be connected directly to any safe control solution. In conjunction with the safety relays of the UE43 and UE48 product families as well as the Flexi Classic and Flexi Soft modular safety controllers, they reach the highest possible safety level up to PL e in accordance with EN ISO 13849. As a result, they are the preferred choice for use in monitoring safety doors, protective hoods, and other removable guards.
Suitable for versatile uses

Left: R1 magnetic safety switches, right: R2 magnetic safety switches
The Reed sensors of the RE1 and RE2 product family are convincing due to their extended operating distance, which makes them very tolerant against tolerances caused by vibrations or mechanical door misalignment. Two housing sizes are available: The RE1 offers compact design for particularly space-saving integration; the RE2 in the standard housing provides the user with extended response range.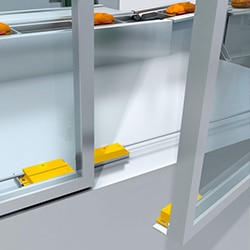 Featuring a broad selection of contact and connection options, respectively, both safety switches are suited for a large number of possible areas of use, e.g. in the packaging industry or in electronics and solar component production. Due to their high IP67 enclosure rating, the easy-to-clean safety switches also qualify for applications in which special hygiene standards are required or heavy contamination is to be expected.
Many advantages in combination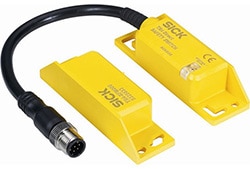 TR4 Direct transponder switch
The RE1 and RE2 magnetic safety switches are supplemented by the wide-ranging portfolio of safety locking devices and emergency stop pushbuttons. Together with safe control solutions, it is possible in this way to realize complete protective concepts from a single source. For applications requiring extended functions or greater protection against tampering, the portfolio containing the product family of TR4 Direct transponder switches provides a high-performance alternative. Great combination in the yellow housing - the new magnetic safety switches from SICK.