Within the electronics industry, the optimization of products and processes is vital to creating the intelligent solutions of the future. End products are entering new dimensions in terms of their performance capabilities - by becoming smaller, flatter, and lighter. Automation solutions are becoming leaner so that their optimization potential can be fully tapped from a quality assurance and cost perspective. As industrial applications become more complex, detection requirements are increasing. But SICK has the answer: the right technology for any challenge - all in an ultra-compact housing.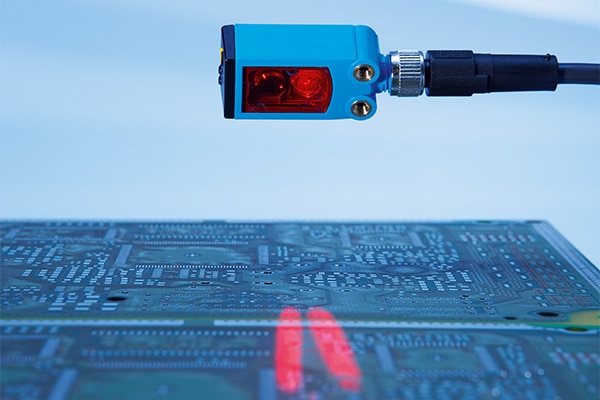 In the electronics industry, objects can be small, black, perforated, transparent, or shiny. This rich variety of optical properties makes detecting them equally complex: Photoelectric sensors from SICK rely on many different factors so that universal object detection can be achieved reliably.
It is the technology that makes the difference
Reliable detection from SICK can be summed up in one phrase: red laser light. A tiny laser beam provides the ideal starting point for detecting objects and their features, no matter how small they are. The light spot supports switching with maximum accuracy, thus providing the basis not only for optimum product quality but also for greater machine availability, as there are fewer switching errors. When conventional red-light sensors reach their limits, SICK uses blue light instead. For instance, the WTB2S-2 Blue miniature photoelectric sensor can even detect highly light-absorbing objects, such as dark-blue solar wafers, perfectly. Meanwhile, the PinPoint 2.0 LED is the ideal way to enlighten your industry if you want to be able to detect the very deepest of blacks. This emits more than twice as much light as the first-generation PinPoint LED. Of course, the new generation of sensors from the W2S-2 product family are not only capable of seeing ultra black. Rather, they guarantee reliable detection of any kind of object and are, for example, able to recognize housings for battery cells or modules in the smartphone industry. On top of that, they offer optimum performance with an ultra-compact design. The WT2-S sensor variant with v-optics supplements the range with its reliable detection of flat, highly transparent, or reflective objects such as monitors or smartphone displays.
Quality made to measure
Detection has to adapt and grow in response to its tasks: Rapid developments within the electronics industry are setting a new pace and new standards, posing challenges for sensors in terms of optimizing production and costs. Adapted sensor technology is always the answer to the challenges of shorter innovation cycles, object miniaturization, or the demand for smaller and more intelligent automation solutions. This manifests itself directly within the sensor solution - e.g., different technologies can be combined in a single platform.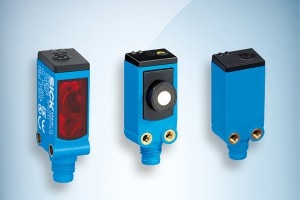 Detection of PCBs with recesses - no problem at all for the WTV4-3 photoelectric proximity sensor with its linear light spot.
And it is exactly this kind of technology platform that SICK has managed to create with its W4 miniature photoelectric sensors, UC4 ultrasonic sensors, and CQ4 capacitive proximity sensor - the housing is barely as big as a lump of sugar. The compact dimensions make it easy to incorporate into the machine design; as a result, the sensors can be used flexibly, even under difficult installation conditions. These sensors demonstrate their high capacity for detection by offering a variety of detection properties combined with full mechanical compatibility. This opens up numerous potential applications within the electronics industry.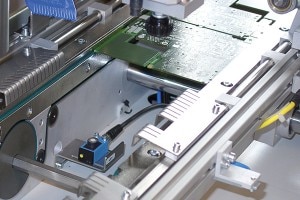 Reliable edge detection with ultrasonic technology.
The CQ4 capacitive proximity sensor can be used to detect light-absorbing wafers in the electronics and solar industries while the UC4 relies on ultrasonic technology to identify dark, shiny, and even very fast objects. The MultiLine is the high-end member of the W4 miniature photoelectric sensor family. With its linear light spot, it detects PCBs very reliably and so sits nicely side by side with the product that is best in class: the WTV4-3 featuring v-optics, a linear light spot, infrared LEDs, and Pin- Point LEDs for the high-precision detection of perforated PCBs.
Smart detection: playing a functional role in open Networks
While photoelectric sensors from SICK are able to plug the gap at the micro level, IO-Link performs a similar function at the macro level. By acting as a bridge to the lowest field level and linking all the process participants, IO-Link enables complete transparency - and opens up new dimensions for detecting what is really happening inside machines. The ability to mirror production data retrospectively and diagnose faults and statuses in advance also redefines the role of sensors, and paves the way for Smart Sensor technology in the context of Industry 4.0. The new SIRIC® ASIC technology is an example of how Smart Sensor technology from SICK can be applied concretely. Photoelectric sensors featuring this optical technology can be seamlessly incorporated into the automation network as Smart Sensor Solutions in accordance with the concept of integrated intelligence. As well as supporting diagnostic and remote configuration functions, they are also capable of performing various automation functions, such as counting, time measurement, remote interference suppression, or position determination based on a time stamp. All of these developments make things easier at the control level and increase machine productivity. Even if there is a burgeoning of technological quality as a result of Smart Sensor technology, the format will remain the same: intelligent sensor technology in an ultra-compact housing.
The entire performance range in one product family
Recently, the SICK miniaturization strategy has culminated in a solution that brings together all the advantages of time-of-flight technology in the worlds smallest housing and boasts an impressive sensing range: the PowerProx Small MultiTask photoelectric sensor. Here, reliable detection takes the form of six different sensor variants, which are designed for various tasks and offer compatibility even in the context of robot-assisted production automation. Object presence monitoring must be able to cope with a situation that is highly dynamic. For this reason, the sensors attached to the grippers must be as small and light as possible. With its miniature dimensions, 800 mm sensing range, and ability to support Smart Sensor functions, the PowerProx Small is an innovation that can solve one of the key tasks of the future industrial landscape.