Courier, express, parcel, and postal
Courier, express, parcel, and postal
From individual sensors to fully featured integrated systems
Leading package and freight logistics service providers are pushing ahead with automation in their sorting and freight distribution centers in order to to tackle the growing flows of goods and packages, both now and in the future. SICK develops and implements reliable sensor solutions, for example for system control, shipment measurement, bar code and label identification, and sets global standards while doing so. Increase the throughput of your sorting center using read systems which deliver reliable data at even very high conveyor speeds. Calibrated weighing and volume measurement systems help you optimize loading and facilitate sender invoicing. A wide range of photoelectric proximity sensors, encoders, distance sensors and many other types of sensors proven for use in CEP processes support you in creating optimal control systems for your sorting and conveyor technology. You can also rely on a worldwide team of experienced SICK service technicians and their many years of industry knowledge. This is a complete package which offers significant added value for your success in the parcel, postal and freight industry.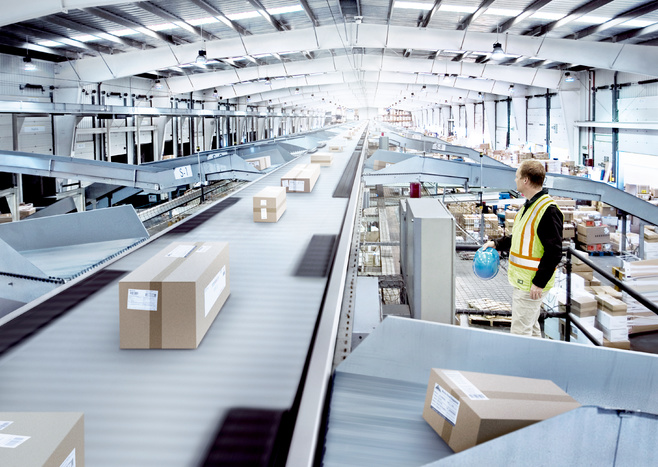 Greater efficiency in the entire supply chain
Intelligent sensor solutions from SICK are driving forward networking in production and logistics.
Working together as equals
Thanks to sensors from SICK, robots perceive more precisely. For all challenges in the field of robotics: Robot Vision, Safe Robotics, End-of-Arm Tooling, and Position Feedback.
Find out more
Industry 4.0 is picking up speed: Automated flexibility for mobile vehicles and carts
Our modular solutions portfolio for mobile platforms now makes it possible to implement line guidance, navigation, positioning, environmental recognition, security and load handling with ease.
Conveyor System CEP: Encoders from SICK for precise and slip-free speed detection
By partnering with us, you can benefit from our expertise in the functional safety of productivity-increasing safety solutions. So that your processes run smoothly, man and machine work as a team, and we can jointly push the boundaries of what is achievable.
TOP