With twice the storage capacity achieved, handling performance given a boost, and supply and delivery reliability assured, Bossard AG's expanded logistics center in the Swiss city of Zug is keeping the company primed to meet its ambitious growth targets. Bar code scanners, photoelectric sensors, encoders, and distance sensors from SICK - all tried and tested by logisticians - are the key to the seamless operation of the fully automatic storage and conveyor technology.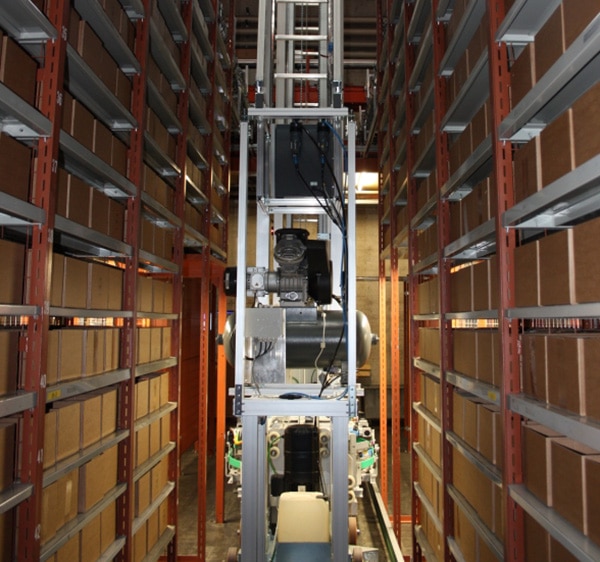 The improved logistics performance is down to the exceptionally high-performance load-carrying unit installed on each of the ten storage and retrieval systems. Taking the form of a carousel, the unit is able to accommodate up to eight boxes. CLV630 bar code scanner featuring a CDF600 PROFIBUS connection module identify the boxes, DS30 mid range distance sensor monitor compartment occupancy in bays, ISD400 optical data transmission systems transfer information between the storage and retrieval systems and the stationary control system, and encoders in the toothed belt drive motor ensure precise positioning. To achieve this, Bossard has chosen SICK sensor solutions that offer such outstanding reliability and performance that they could have been made for the company's own product portfolio.
The Bossard Group is a global network of companies that has more than 1,800 employees at over 60 sites across the world. A market leader in the field of mechanical and electrotechnical fastening elements, it keeps in excess of 60,000 different catalog products in stock, including screws, nuts, rivets, and washers. Bossard offers more than just products, however. Its customers also benefit from comprehensive solutions designed for customer logistics applications, such as the rapid, automated SmartBin warehouse management system and Bossard Inventory Management (BIM), which keeps procurement outlay for C-parts to a minimum and thus allows customers to tap into significant potential for rationalization. Our products and services make it essential for us to use high-performance storage and delivery logistics systems that aren't going to become outdated any time soon, says Guido Pfister, Logistics Manager at Bossard. That's why we've implemented this new warehouse area to increase our capacity to 430,000 storage spaces for small parts and 9,000 parking spaces for pallets. The move has also created additional jobs in the goods receiving, technical monitoring, and picking areas of the center. What's more, the picking facilities have been completely remodeled and extended - with no less than ten new automatic storage and retrieval systems integrated.
SICK's early involvement in the development of the load-carrying carousel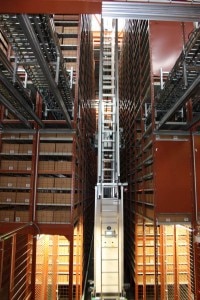 Storage and retrieval system The highly efficient load-carrying unit was a driving force behind the improvement in logistics performance. Thanks to its ability to take as much as eight boxes at once, the storage and retrieval systems have seen significant optimization in their transport performance. This required the carousel to be equipped with sensor intelligence, which is used for essential tasks such as reliably identifying boxes being stored and removed, as well as monitoring bay compartment occupancy from the load-carrying unit. The SICK project team, hailing from the city of Stans, provided Gilgen Logistics with consultancy services as early as the prototype stage - as well as loaning it instruments that were suitable for the task. Thanks to SICK's excellent support, Gilgen was able to put the functions of the sensors and the load-carrying unit through their paces even before the six-month test installation came around, says Franz Weingand, Operating and Maintenance Manager at Bosshard, looking back on the project.
Outstanding performance in operation
All the storage and retrieval systems have since been put into operation - and the sensors are showing what they are made of during day-to-day operation. With a sensing range of 3 m and precision background suppression, the DS30 distance sensor in a standard photoelectric sensor housing is the ideal solution for monitoring compartment occupancy. What's more, the user-friendly ISD400 optical data transmission systems guarantee reliable, rapid transmission between the storage and retrieval systems and the higher-level control system.
Thanks to the performance they offer, all these sensors - as well as the W4-3, W8L, W11-2, W14-2, W100L, and W34 photoelectric sensors - are prime candidates for any full automation projects that may take place at other Bosshard warehouses across the world. With its global presence, SICK is in the position to provide on-the-ground support wherever this might happen.
Product informationen: CLV630 bar code scanner, DS30 mid range distance sensor, ISD400 optical data transmission, W4-3 miniatur photoelectric sensor, W8L miniatur photoelectric sensor, W11-2 small photoelectric sensor W14-2 small photoelectric sensor, W100L miniatur photoelectric sensor, W34 compact photoelectric sensor
Product portfolio: Bar code scanners, Mid range distance sensors, Miniatur photoelectric sensors, Small photoelectric sensors, Compact photoelectric sensors
Customer information: Bossard AG, Gilgen Logistics AG