Safety for automated guided vehicles on all paths and in all direction, combined with economic efficiency - this specification from the Spanish intralogistics provider ASTI is fulfilled by complete protection comprised of S300 Mini safety laser scanners and SICK's Flexi Soft safety controller.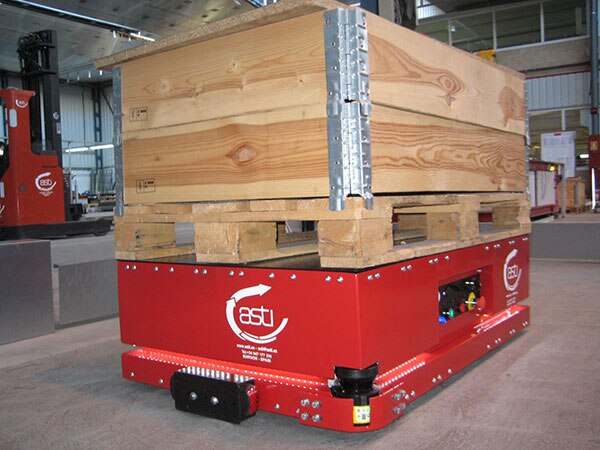 Personal safety and collision protection, performance without compromise - all of this is made possible by the 360° safety solution developed specifically for automated guided vehicles and mobile platforms. In terms of sensor technology, it consists of two S300 Mini safety laser scanners. Installed diagonally across, they utilize their 270° scanning angle to permit complete all-round monitoring of vehicles. They are integrated safely using the Flexi Soft safety controller, which in addition is also capable of processing signals from other sensors
Space-saving integration involving minimum connection expense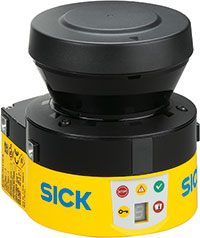 S300 Mini safety laser scanner
The S300 Mini safety laser scanner meets the technical safety requirements of performance level d in accordance with EN ISO 13849 and SIL2 in accordance with IEC 61508, and complies with the requirements for opto-electronic protective devices according to IEC 61496 type 3. Developed particularly for mobile applications, it features an overall height of only 116 mm, making it the space wizard among safety laser scanners. However, it manages not only installation space economically; its wiring technique also avoids unnecessary costs. Using EFI - the SICK-specific "enhanced function interface" - two S300 Mini and one Flexi Soft per vehicle are combined in one safety network. The design was convincing due to dramatically reduced wiring expense, less weight, as well as easy installation and integration of the solution into the vehicles from ASTI.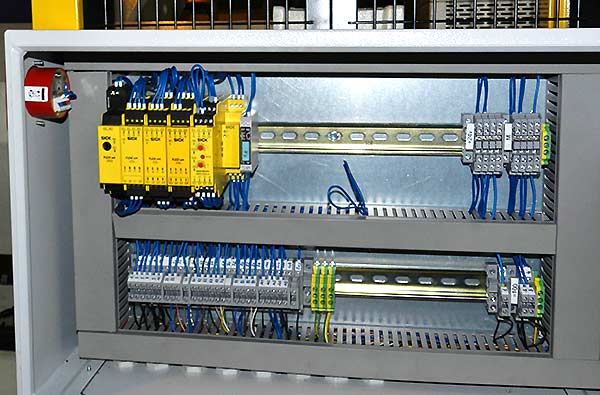 Flexi Soft safety controller
At the same time, the Flexi Soft safety controller becomes the central interface for configuration and extended diagnosis of the two connected S300 Mini. The result is minimum cost in production as well as rapid and smooth commissioning at the place of operation.
Everything in sight with 16 triple field sets
For all-round monitoring, ASTI uses the full functionality of the S300 Mini and the 16 flexibly configurable triple field sets - each with one protective and two warning fields. This setup allows reacting individually to different traveling situations. This includes, for example, dynamic switching of the field sets independent of the travel path or position when decelerating or accelerating. For ASTI's fast vehicles in particular, this feature constitutes a decisive advantage, as the finely graduated monitoring cases enable optimized deceleration and acceleration cycles. S300 Mini and Flexi Soft - ASTI relies on the 360° safety solution for mobile intralogistics and service logistics.
Video: S300 Mini safety laser scanner for automated guided vehicles