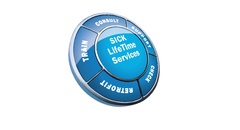 SICK LifeTime Services
SICK LifeTime Services is a comprehensive set of high-quality services provided to support the entire life cycle of products and applications from plant walk-through to upgrades. These services increase the safety of people, boost the productivity of machines and serve as the basis for our customers' sustainable business success. LifeTime Services range from product-independent consulting to traditional product services and are characterized by extensive industry expertise and more than 60 years of experience.
Process of returning product
Here you will find more important information about our return policy.
SICK GmbH
Industriezentrum NÖ Süd
Straße 2a, Objekt M11
A-2355 Wiener Neudorf
Tel.: +43 2236 62288 - 0
Fax: +43 2236 62288 - 888
office@sick.at

Service Contact
Service Inquiries (Quotes, Appointments, etc.):
service@sick.at
+43 2236 62288-800
On-Demand webinars
Here you find a collection of recorded webinars. Stay current on sensor technologies and industry trends by listening to our recorded webinars.
Upcoming webinars
Here you find upcoming webinars and can register for them!