What use are hygienic sensors if their mounting components provide a breeding ground for germs? None whatsoever! That's why SICK has designed the mounting system in line with hygienic design.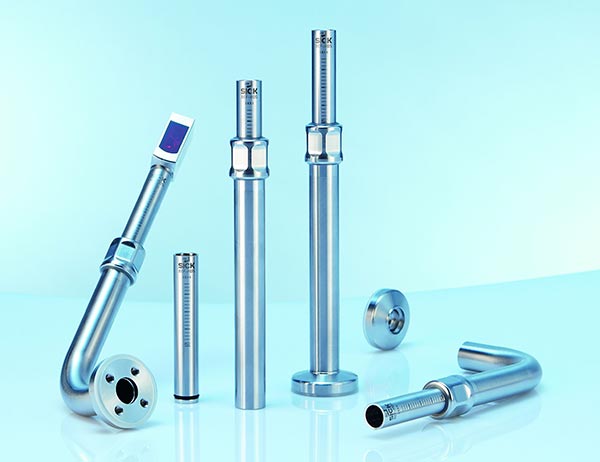 No build-up of germs means no product risk: That really is how simple the equation is when it comes to systems which process food, bottled drinks, or produce pharmaceuticals. With the mounting solutions in hygienic design and meeting the recommendations of the EHEDG (European Hygienic Engineering & Design Group), SICK offers systematic sterility combined with well-conceived functionality.
Adjustable rotation and height via telescopic tube
Designed for the W4S-3 Inox Hygiene photoelectric sensor product family from SICK, straight or compact angled telescopic tubes are available for mounting the sensors, subject to requirements - each with integrated bayonet catch - as well as a laser-welded stainless steel flange in hygienic design. The Hygienic Design mounting systems are supplied pre-fabricated and guarantee quick and simple mounting. The sensor is locked to the mounting tube via bayonet catch - completely tool-free. [nggallery id=10] The system can be rotated for alignment in the axis and adjusted by height along a lasered scale with millimeter precision. This offers optimal flexibility in terms of setting and alignment during commissioning and operation. Secure fitting of the sensor in the desired position is ensured by the integrated wedge technology in the telescopic tube. After the first pre-fixing of the sensor position by hand, the union nut clamps the bayonet tube upon tightening with a wrench such that the sensor does not lose its alignment.

Fulfills hygienic design in accordance with EHEDG
The innovative Hygienic Design mounting system from SICK is fully compliant with the recommendations of the EHEDG. The mounting system is made from selected stainless steel 1.4404 / AISI 316L, which supports the natural mortality rate of bacteria and other microorganisms on the surface. The surface roughness of 0.8 µm RA offers few adhesion options for residual products, thereby avoiding acting as a culture medium for bacteria and other microorganisms. When cleaning and disinfecting, the smooth, rounded edges and easy-to-clean shape of the mounting components guarantee that cleaning agents and disinfectants run off optimally after taking effect and that no pockets of residue can form. The silicone seals, specially developed for use in the telescopic clamping and bayonet catch have a very broad chemical and thermal resistance and are also FDA-compliant.