Where previously you had to pour olive oil into containers by hand, you can now use complete pumping and bottling systems. One of these systems has been developed by FoodTech BV, a machine and system manufacturer and parts supplier from the Netherlands. Level sensors and pressure sensors from SICK ensure that the bottling system runs smoothly.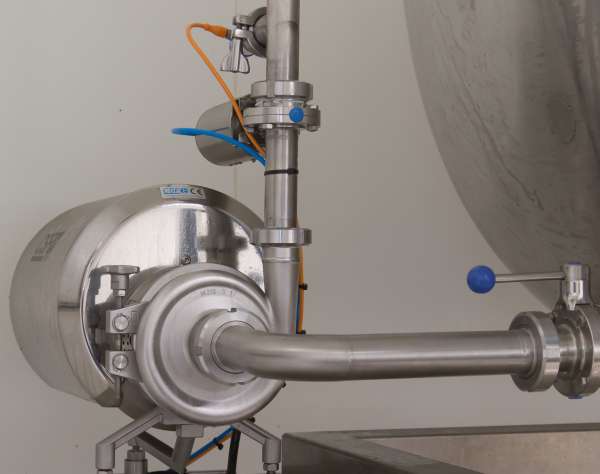 Thousands of containers per day One of FoodTech's recently completed projects is an automated solution for bottling and packaging olive oil for a retailer specializing in dried tomatoes, olives, and olive oil. CEO Wim Reede tells us that for this customer, we developed and constructed a pumping system which fills containers with olive oil automatically. Previously, they filled an average of 250 containers per day by hand, but now our customer can produce thousands of 250 ml containers every day.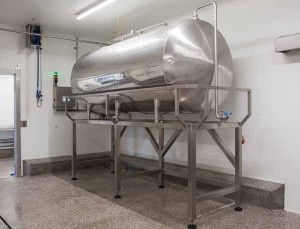 Olive oil in the stainless steel tank
Reede explains how the system works: The olive oil is supplied in large, white IBC tanks. The oil is then pumped into a larger stainless steel tank. Next, the oil is conveyed through pipes from this tank into the two buffer tanks of the bottling system. Finally, the bottling system fills the individual containers with exactly the right amount of olive oil.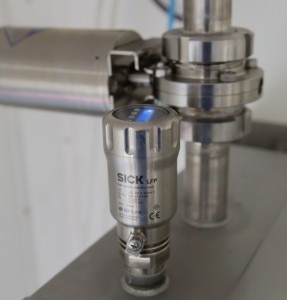 The TDR level sensor LFP Inox checks the level of the olive oil
SICK monitors the pressure in the pump and the pipes. According to Wim Reede, it is vitally important that the pressure in the pump and the pipes is always kept at the correct level: As soon as the pressure drops due to air bubbles, there is a risk that olive oil could accumulate on the inner surfaces. It then becomes rubber-like in consistency, make cleaning extremely difficult. Thanks to SICK, we can monitor this perfectly. The TDR level sensor LFP Inox checks whether there is still a sufficient amount of oil in the stainless steel tank. If this drops below a certain level, more is pumped from the IBC tank. The pipe pressure is monitored by the SICK PBS pressure sensor. This means that potential faults are detected immediately.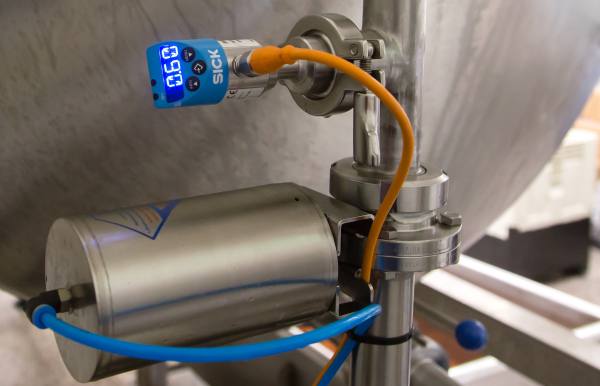 The pipe pressure is monitored by the PBS pressure switch
SICK products are long-lasting
Wim Reede has been familiar with SICK products for many years. At the start, when we were limited to system maintenance, I dealt with sensors from a very wide range of manufacturers. From this, we could see that SICK sensors simply do not break, they have a long service life, and they are available at a reasonable price - it was very easy to find our favorite brand very quickly. This is why we still say today that, if possible, we always choose SICK sensors. At SICK, they think about all of the little points in great detail. And I haven't even mentioned the excellent customer service yet - the SICK employees are always very approachable.